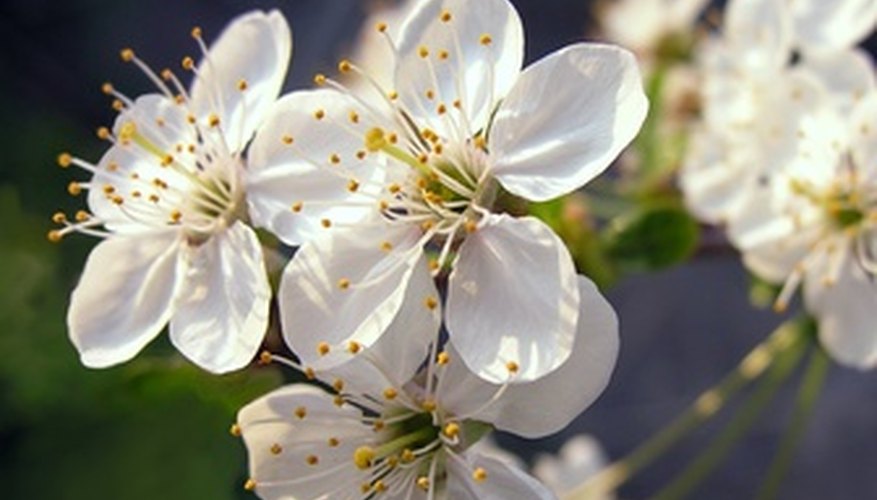 white flowers of plum-tree image by Maria Brzostowska from Fotolia.com
The show-stopping Newport flowering plum features foliage that starts out as light purple, but quickly changes to red. But before the foliage even pops out, beautiful bluish-pink blossoms appear, with the flowers being the reason many gardeners plant the tree in the first place. The small dull-purple fruits that come next make this plant perfect for adding color, texture and form to any garden or landscape.
History and Development
The famous pomologist, Luther Burbank, contributed greatly to the development of the plum varieties still used in gardens today. In 1995, he imported 12 plum seedlings from around the world, and began cultivating them to pull out the best characteristics. By 1923, a new ornamental plum species was developed and named the Newport flowering plum. This cultivar was developed at the University of Minnesota from a cross of P. Omaha and P. cerasifera Pissardii.
Description
This hardy plum tree thrives in USDA hardiness zones 4 to 10 where it does well even in harsh or extreme climate conditions. The tree grows up to 30 feet in height and 25 feet in width, forming a round shape. White to light pink blossoms cover the tree in early spring, followed by light bronze or purple colored leaves. These leaves quickly deepen to a reddish-purple hue for the rest of the growing season. One- to two-inch, dull purple fruits appear next, maturing in late summer when they may be harvested. While most gardeners do not plant this plum tree for its fruit, the tiny fruits are edible.
Planting
Newport flowering plum trees thrive in just about any soil as long as it's well drained. The plant needs to be planted in full sun. This hardy plant even does well in drought, although watering definitely helps the tree survive and live longer.
Uses
While very small, the plums from the Newport flowering plum taste quite delicious. No larger than golf balls, the dull purple fruits work well in jellies, jams, preserves and in other recipes where plums are required. These beautiful flowering trees also work well when planted close together to create a screen for privacy between property lines or along edges of the landscape.
Wildlife
Wildlife such as squirrels, birds and other small mammals flock to the fruits of this plum tree. For gardens where the trees get planted for show and not the fruits, the wildlife really get the advantage. The trees also offer shelter and nesting sites for a variety of birds.
Resources