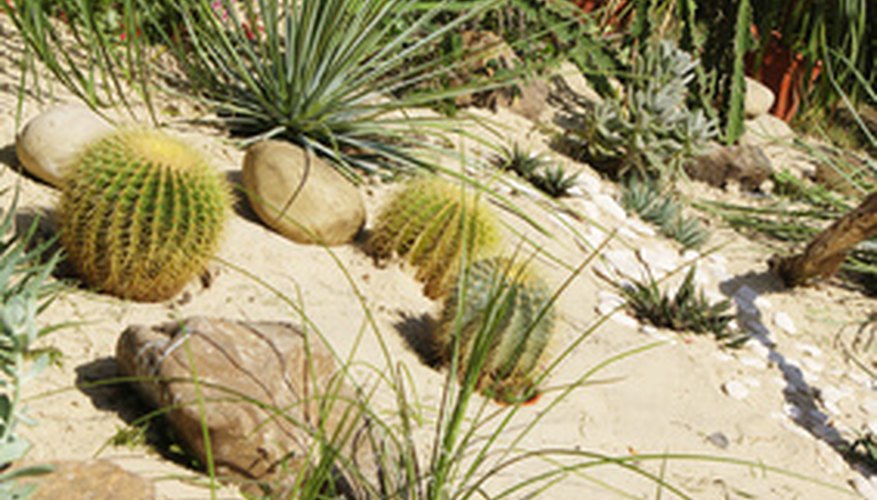 Including desert plants in your landscape can be a great way to reduce water use and maintenance in arid climates while creating habitat for native birds and other wildlife. Most desert plants are particularly adapted to the specific conditions of their native ranges. Careful selection of desert plants, based on their preferred soil type, moisture levels and level of exposure to sunlight, is essential to their success in the landscape. Once you understand a plant's cultural requirements, you can determine if it will do well in your garden and where it should be planted.
Evaluate the site where you want to establish your desert plants. Determine where water runs off or collects, and take note of sunny, exposed areas as well as shaded ones. Determine if the soil is porous and drains well, or if it is heavy clay. Write down what you find in a notebook for future reference.
Explore desert areas near your home, and get to know the plant communities associated with different desert microclimates. Take photographs of plants you like growing in their natural habitats, and use these to help identify them later, if necessary. Use a good field guide to identify the plants you find.
Recreate desert microclimates where they are most appropriate on your site. Work with the conditions you already have for best results. For example, use a shady spot to create a canyon wall garden with moisture-loving golden currant shrubs and gnarled Mexican elder trees. Line an area where runoff naturally drains with hardy shrubs adapted to the temporary irrigation and erosion of desert washes, like Apache plume or cliffrose.
Select groups of plants naturally found together in desert microclimates because plant species that have evolved together over time generally grow better together than by themselves. Consider grouping three-leaf sumac, bear grass and claret cup cactus, for example, to create a high desert plant association. Plant feather dalea and mariola daisy underneath tall growing ocotillo to replicate a low desert plant association.
Investigate other species or cultivars that are related to particular plants you like. Many desert plant families include several closely related species, all with distinct characteristics. For example, there are more than 100 different types of penstemons and at least as many varieties of agave in cultivation to choose from.
Things You Will Need
Field guide

Notebook

Pen

Camera
Tips
Look for plants native to your region--once established, these generally thrive with little care.

Visit local botanical gardens or parks that feature plant walks to learn about desert natives.

Seek out nurseries that specialize in desert natives and ask for guidance in selecting good plants for the specific conditions of your garden.

Consider joining a native plant society or other club for desert garden enthusiasts.