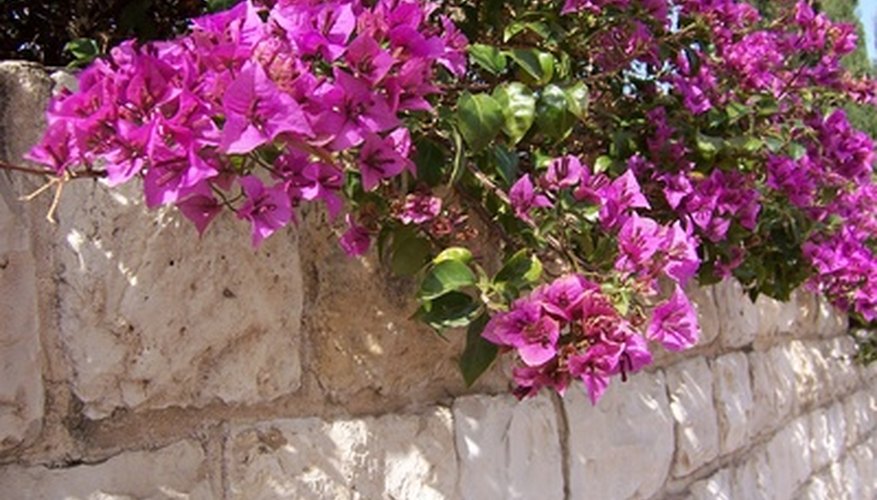 Often used to add color around trellises, fences or walls, bougainvillea is an evergreen vine that is best grown outdoors in warmer climates, U.S. Department of Agriculture Hardiness Zones 9 to 11, though it can be grown in pots in zone 8 or lower. Bougainvillea is a showy vine that gets its color from the bracts surrounding small flowers. It is available in a range of vibrant colors, including magenta, red, yellow and white.
Native to coastal Brazil, bougainvillea was first discovered in 1768. There are 14 species of bougainvillea in addition to many hybrids. All varieties are tropical, prefer full sun, moderate water and soil with a pH between 5.5 and 6.5. Bougainvillea are drought tolerant and should be planted in well-draining soil.
Bougainvillea glabra
Bougainvillea glabra has thin branches and triangle-shaped bracts that are available in white, lilac, mauve and purple. The branches have small thorns that are curved at the tips and leaves are elliptical. The bougainvillea glabra produces cream-colored, tube-shaped flowers that bloom continuously. This species was first named in 1849.
Bougainvillea hybrids
The most common bougainvillea hybrids are bougainvillea glabra x bougainvillea peruviana, bougainvillea x spectoperuviana and bougainvillea x spectoglabra. The most common is the glabra-peruviana hybrid, which is also known as bougainvillea x buttiana and has large, hairy heart-shaped leaves with round bracts in either red or dark pink. Flowers on this plant are tube-shaped and cream with pink highlights. The bougainvillea x buttiana is an open grower that should be pruned several times a year to promote growth.
Bougainvillea peruviana
The peruviana species of bougainvillea has thin branches and is more open than other species. An avid climber, bougainvillea peruviana is available in magenta (light or dark) and its thin thorns are straight on younger plants and curved on older plants. The bracts are papery, small and crinkly and this plant blooms well in dry weather, after a period of strong growth. This species was first named in 1808.
Bougainvillea spectabilis
This species is an avid climber with hairy stems and leaves and large, egg-shaped bracts available in rose, red and purple. These plants have small, cream-colored flowers surrounded by big, leathery leaves. The bougainvillea spectabilis is a dense plant and it was first discovered in 1798.