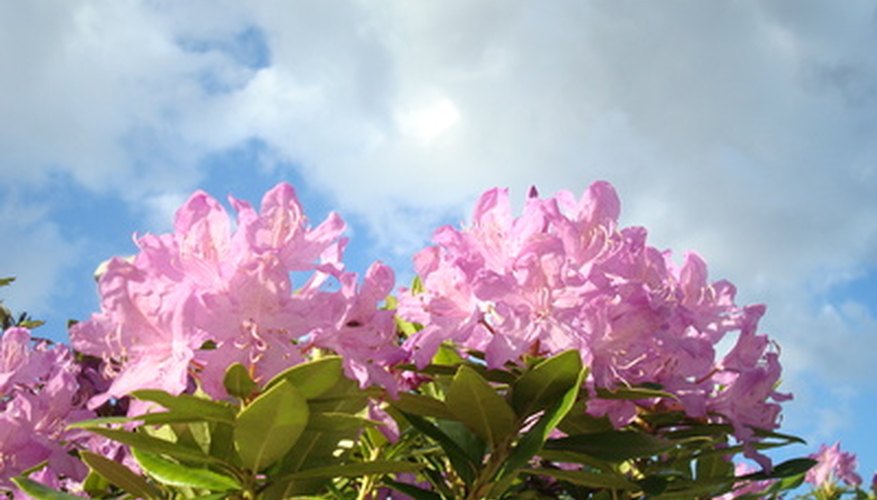 Oregon is home to a wide variety of flowering shrubs. These plants thrive in the cool, fertile, rich soils of the state. Many of them are spring bloomers, but others bloom in early or even late summer. Some, such as the Pacific rhododendron, grow in the wild as well as in many a homeowner's garden.
Summersweet (Clethra Alnifolia)
Summersweet (Clethra alnifolia) is native to the east coast of the United States, but it is commonly found in Oregon. The shrub thrives in the moist soils and dark landscapes of the western part of the state. The plant is desirable by home gardeners for its ability to bloom in the shade. As an added bonus, the summer-blooming, pink (or white) flowers have a sweet scent. The leaves turn golden in the fall. This shrub is medium-sized, growing up to 8 feet tall, and puts out a lot of suckers, so control is sometimes difficult.
Bottlebrush Buckeye (Aesculus Parviflora)
The bottlebrush buckeye shrub is one of the few shrubs that does not produce flowers until mid-July. When it does flower, the effect is visually stunning, as the bottlebrush buckeye's flowers are long--a foot or longer each--and bright white. As an added bonus, the foliage of the plant is colorful in the fall. The bottlebrush buckeye grows in full sun or partial shade, but it is rather picky about soil and prefers loamy dirt that is rich in organic nutrients.
Westringia (Westringia Fruticosa)
Westringia is a favorite with home gardeners who live along Oregon's windswept, salty coast. The shrub, which is often called "Coastal Rosemary," is compact, bushy and very hardy. Westringia can tolerate drought conditions and the high winds that come with coastal living. This plant averages only 4 feet tall and 4 feet wide. The leaves are slender and grayish-green. In the summer, the plant produces clusters of small, pink flowers. This evergreen shrub likes full sun or partial shade and well-draining soil.
Pacific Rhododendron (Rhododendron Macrophyllum)
The Pacific rhododendron thrives in the cool, moist climate of western Oregon. This popular shrub is very tolerant of the windy, salty air blowing in from the coast. In full sun, the plant can grow up to 12 feet tall. The branches are long and the shrub can get leggy, but the large, showy clusters of flowers more than make up for that. The flowers, which are usually pale pink but can be deeper purple in color, bloom in early summer.