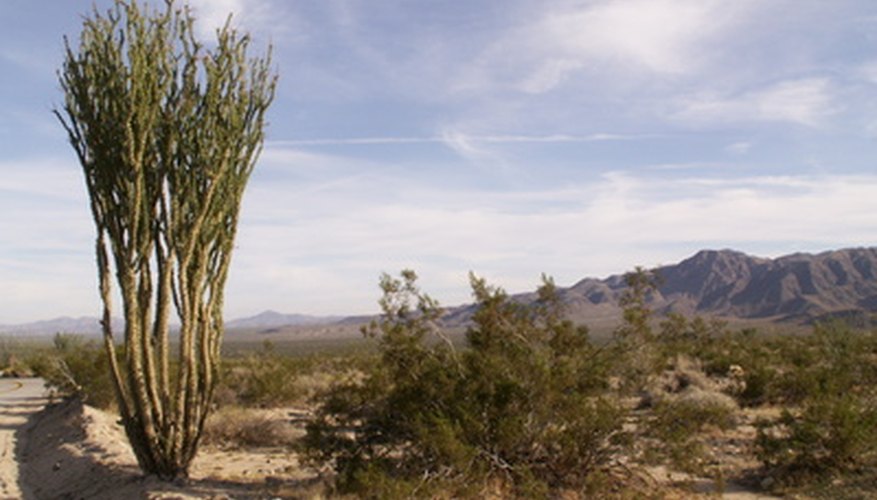 According to the University of New Mexico, Las Vegas receives an average of only 4 inches of water per year, and has an annual evaporation rate of more than 80 inches of water. If you live in a desert climate such as this, you may be tempted to install irrigation pipes so that you can have a verdant lawn. However, greenspace in a desert climate is a drain of resources. Instead, Universities such as New Mexico advocate xeriscaping. Xeriscape landscapers work with native plants to create a sustainable landscape. In the desert, this means creating a desert environment.
Place plants that are adapted to your environment in areas where water naturally collects, such as low spots in your yard or washes where runoff pools.
Group plants with the same sunlight and water needs together for ease of care. Instead of grass, choose low-maintenance ground cover such as shrubs or mulch. Use porous materials for landscaping pathways such as mulch or flagstone.
Re-grade your yard to catch runoff instead of sending it into a storm drain. Break up the soil by passing a rototiller in a pattern pointing one direction, then a second time in a pattern that is perpendicular to the first pass. Rake the soil to redistribute it. Terrace your yard to catch water more effectively, and make planting beds lower than their surrounding soil so that they retain water.
Mix compost into the soil when you re-grade it to improve the nutrient content of soil.
Collect rainwater in rain barrels and save it for watering your landscape. You can also turn downspouts so that they drain onto the landscape to water it more efficiently during times of rain.
Mulch around plantings and in beds to help hold in water and prevent evaporation.
Plant shade trees and vines on the south and western sides of your home as well as around your air conditioner to shade your home and conserve energy.