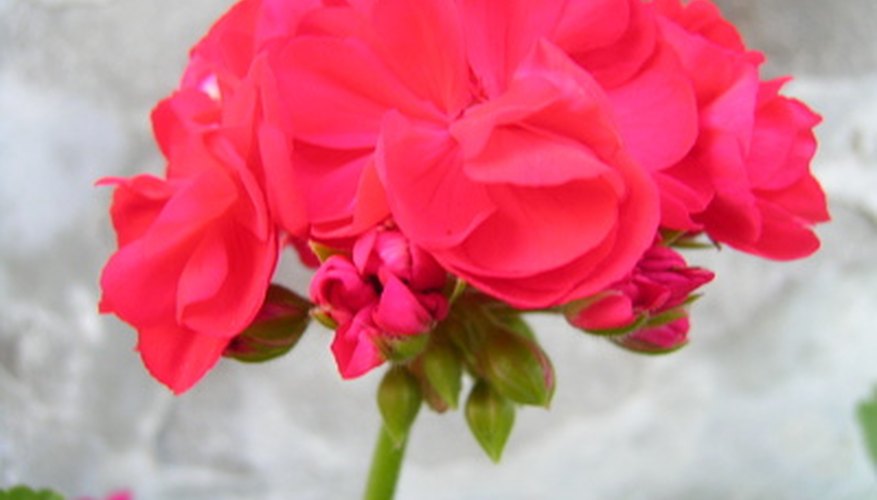 Bright geraniums add a splash of brilliant color to window boxes and container gardens. Their large 4-inch blooms range in color from pastel pinks to deep, rich reds that appear to float atop the foliage. Grown as annuals in much of the U.S., geraniums are a tender perennial that survives several years if over-wintered properly. Under optimal conditions, geraniums bloom non-stop from late spring until frost. When subjected to hot dry spells, blooming may cease temporarily. With proper care, geraniums revive quickly and produce a new flush of blooms.
Cut geraniums back to 4 to 6 inches from the grown level if they cease blooming or suffer from stress associated with neglect or excessive dry periods. Remove any discolored or damaged foliage.
Water thoroughly to saturate the soil to the root level. If grown in pots, water until water runs free from the bottom of the pot. For those grown in the soil, dig into the soil to determine if the soil is wet to the root level.
Apply balanced fertilizer (8-8-8 or 10-10-10) following the recommended application rate. Many gardeners make the mistake of feeding geraniums high-nitrogen fertilizer believing it will cause a boost in growth. High-nitrogen fertilizer produces lush green foliage but blooming is inhibited.
Move container-grown geraniums to direct sunlight. Remove any objects that may cast shadows on geraniums grown in the soil to allow direct sunlight into the garden, if necessary. Inadequate light inhibits blooming.
Water when soil dries to the touch and repeat fertilizer once a month to keep geraniums healthy. Remove spent blooms (deadhead) as soon as they begin to fade to force new blooms. Failing to deadhead geraniums causes a decrease in new blooms.
Things You Will Need
Garden clipper/scissors

Balanced fertilizer