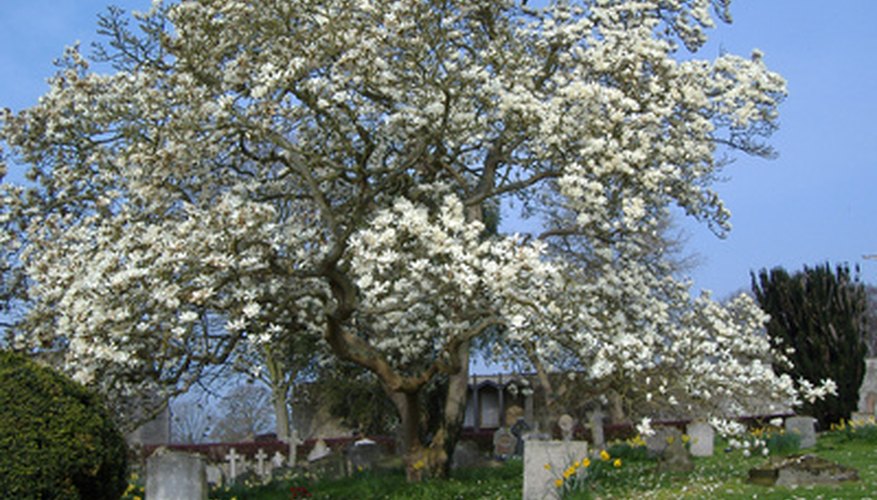 Saucer magnolia is usually the first tree to bloom early in the season. It's so early, in fact, that many of the 5-inch saucer- or bowl- shaped flowers often succumb to late frosts. But the blossoms that manage to miss the frost present a breathtaking spectacle of white, pink, mauve, magenta or purple flowers against gray bark. The foliage emerges later, so flowers take center stage and command your attention. Slow-growing Magnolia x soulangeana typically attains a manageable size of about 20 to 25 feet tall with a 25- to 30-foot spread. It requires little in the way of pruning, which you should do immediately after the tree blooms.
Prune out any dead, damaged or diseased stems or branches. Make your cuts precise and clean, leaving no ragged edges or stubs. Trim the stem all the way back at the collar--where it grows from a larger branch. If it's a main lateral limb, prune it back at the collar on the trunk.
Remove bottom branches from your saucer magnolia as necessary. These trees are characterized by their low canopies, and limbs can become obstructions for you and your family. Cutting the bottom branches won't hurt the tree, which will quickly recover and produce many more limbs to compensate for the loss.
Trim the occasional shoot that might protrude noticeably or unattractively beyond the canopy. Saucer magnolias need no further assistance in maintaining their natural, aesthetically pleasing shapes.
Warning
Take care when using metal tools on your saucer magnolia. Its bark is thin, easily marked and susceptible to injury or damage.