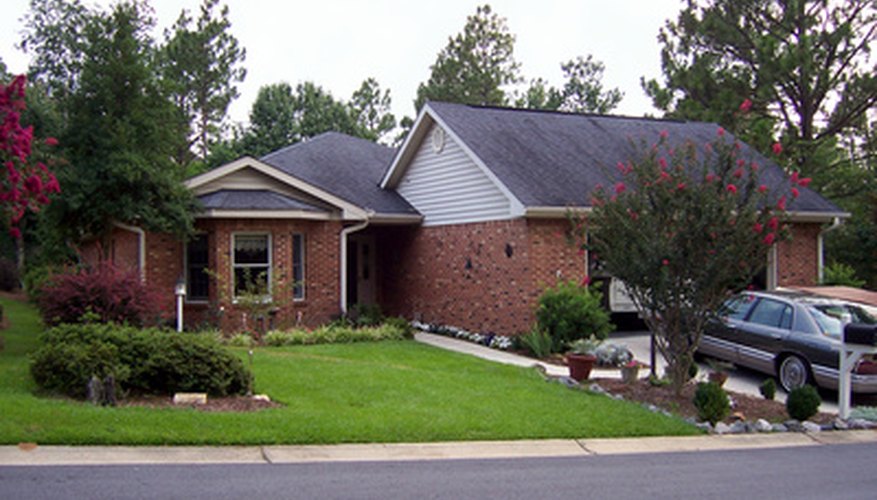 Bushes serve many purposes, providing height and texture, flowers, fragrance, color and even food and shelter for birds and wildlife. Whether in a formal or informal landscape, flower garden or serving as a hedge, there are some garden bushes that are so versatile they've become popular across growing zones and garden types.
Burning Bush
Popular for its bright "burning" color in fall, two varieties of burning bush are commonly used in home flower gardens and landscapes: the bursting heart burning bush and the compacta burning bush. The bursting heart variety grows and average of 6 feet high and 6 feet wide and produces brilliant red clusters of berries in early fall that resemble hearts, giving the bush its name. Compacta is the most well-known variety, with foliage that turns from green to burning red when summer ends. Compacta, despite its name, grows larger than bursting heart, reaching up to 10 feet tall and 10 feet wide.
Chokeberry
Like burning bush, there are two common varieties of chokeberry used in flower gardens across many growing zones. Black chokeberry can reach sizes of 6 feet by 6 feet and is covered in delicate white flowers in the spring. By fall, the green foliage turns to a deep red-purple, and the bush produces dark purple berries. The red chokeberry grows somewhat larger, and can reach 10 feet high and 5 feet wide. In the spring, white and pale pink flowers appear, followed by brilliant red berries in the fall. The foliage also turns bright red at the end of summer.
Honeysuckle Bush
Red rum honeysuckle and winter honeysuckle are frequently used in landscapes because of the sweet fragrance of the flowers and blooming habits. Winter honeysuckle, as its name suggests, blooms in late winter, prior to leaves appearing in the spring. The flowers are white and have a sweet, lemon-like fragrance. Blooms on the red rum honeysuckle start out white and eventually become yellow. The bush eventually produces red berries that last throughout the winter. Red rum grows to an average size of 10 to 12 feet in height and width, while winter honeysuckle averages 8 feet tall and wide.
Spicebush
Common in informal and woodland-style gardens, spicebush is popular for its pleasant fragrance and bright color. Blooms start in early spring, covering the bush in yellow flowers even before the leaves appear. In the autumn, all of the leaves turn a sunny yellow color before falling. Spicebush grows anywhere from 6 to 12 feet high and 6 to 10 feet wide.