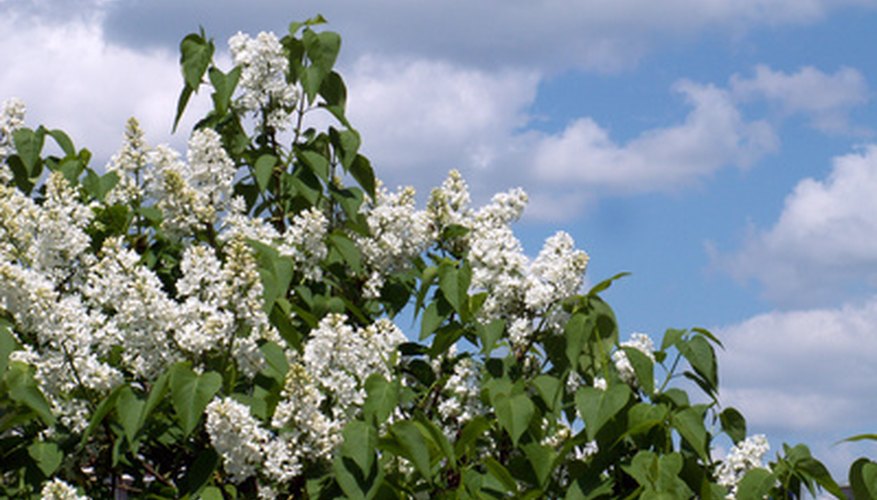 Imagine each home landscape as an individual painting reflecting the characteristics of both homeowner and home design. Landscaping serves to add decorative nuances to a property, accenting the best elements. Shrubs form an integral part of the design process by allowing the addition of permanent plants to the landscape. Shrub placement involves choosing locations in the landscape to direct traffic flow and complement existing trees, as well as choices of locations based on plant requirements.
Sketch out the property on graph paper as close to scale as possible. Include the house, driveway, walkways, porches, decks and any other permanent hardscape features on the property. Whether you choose to make this drawing to scale depends on your preference. The object lies in providing a good overhead view of the property to select areas that would benefit from shrub placement.
Add permanent plantings such as trees, existing shrubs, gardens or raised planters to the drawing. Making additions to the landscape requires evaluating which plants will match current shrubs, trees and flowers. This blending of elements is like matching a shirt with pants to create a polished look in clothing.
Investigate the USDA hardiness zone for your location. This information provides the lowest temperature that common perennial plants can survive in your area. Nurseries list USDA hardiness information on the labels provided with nursery plants.
Examine the landscape drawing to look for areas that might benefit from the addition of shrubs. Blank spots, possible hedge locations, mass plantings or groupings can be considered with shrub placement. These versatile plants work in many ways to add cohesion to the landscape.
Visit the garden center to determine which shrubs meet your landscaping needs. Choose shrubs based on mature planting width, height, sunlight requirements and soil needs. Look closely at the leaf texture and color to match existing plants in the landscape. Pay attention to blooming period and the growing habits of the shrub. Keep track of this information on the back of your landscape drawing or a separate piece of paper.
Select the plants that suit your landscape needs, and then sit down with your drawing. Place shrubs in areas to frame flowering perennials and annuals. Consider creating a hedge or allowing a spectacular shrub to stand alone as a focal point in the landscape, to accent the corner of the home or to enhance a plain area of the landscape. Always consider the mature size of the plant before selecting a location to avoid the possibility of a future transplant.
Execute your landscape plan based on your research. Remember to add soil amendments such peat moss or compost to benefit newly planted trees. Figure these amendments, as well as mulch, into your landscaping budget to increase the success of the newly planted shrubs.
Things You Will Need
Graph paper

Ruler

Measuring tape

USDA hardiness zone map