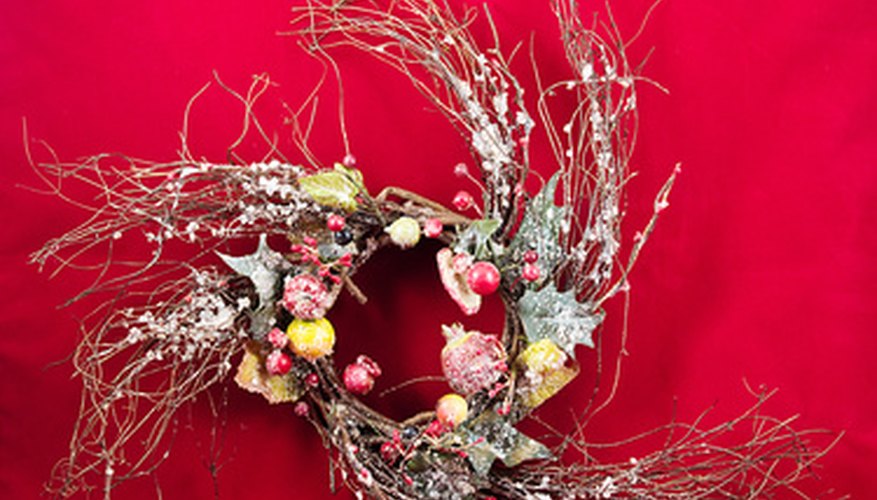 Not only do grapevines produce plump, juicy grapes, the vines make a sturdy base for craft projects. Gardeners who grow or have access to these versatile vines will find the vines are tough, yet pliable. When handled and processed correctly, grapevines fashioned into a variety of forms are suitable for baskets, flower arrangements, decorative garlands and wreaths. Because of grapevines' durability, craft projects using the vines have a long shelf life, especially when treated with a preservative.
Prune vines and tendrils from the garden or from wild grapevines growing in wooded areas. Wrap the vines in a circle and secure with a piece of twine for easy transport to a work area.
Create or fashion the vines into various shapes and sizes, using a twisting or braiding technique. Do this while the vines are still pliable. Secure with twine, if applicable. Set aside to dry in a warm, sunny location.
Place vines that have dried out into a large container of water for several hours to make the vines pliant and easy to weave without breaking the vines.
Remove the vines from the container, shake off the excess water and begin creating the grapevine decoration, using the weaving or plating technique. Dry in a sunny location for several days.
Preserve grapevines with a clear acrylic sealant applied when vines are completely dry. The sealant helps prevent fading and deterioration to the vines.
Store the vines, when not in use, in plastic bags sealed tightly to prevent dust and bugs and place in a cardboard box or plastic container with lid to prevent damage to the grapevine base and decorations. Place in a cool, dry area, such as a closet, until needed.
Create an assortment of seasonal wreaths, swags, bows and floral baskets, decorating each with dried and silk flowers, herbs, silk vines, berries, and grains and grasses along with artificial fruits, nuts, pinecones and vegetables applicable for each season.
Display grapevine creations on exterior doors, porches, fences and gates. Decorate interior walls, fireplace mantels and stair railings with decorative swags and garlands or create grapevine baskets to highlight a room's decor or as a dining table centerpiece.
Things You Will Need
Gardening gloves

Garden clippers

Twine

Bucket

Water

Sealant
Tip
Drying times depend on the thickness of the grapevines and the number of vines used to create a base.
Warning
Create grapevine bases thick enough to accommodate some shrinkage when drying.