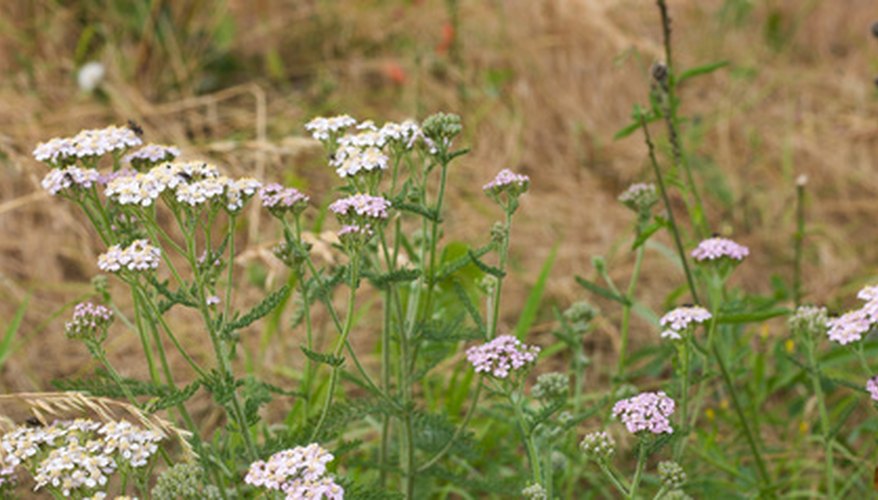 The flat heads of blooming yarrow add attractive contrast to fresh-cut flower arrangements. This beauty does not have to end when the flowers fade. Use dried yarrow to accent dried bouquets. Try breaking dried yarrow blooms, leaves and stems into small pieces for enhancing your potpourri fragrances. Powdered, dried yarrow has been valued in home remedies for centuries as a styptic for cuts and scrapes. Many people favor the herb for making soothing teas. Dried yarrow flowers, leaves and stems can be kept for future use with proper storage.
Place the whole dried yarrow into a clean brown paper bag if you'll be using it within the next several days. Close the bag tightly and set it in a cool, dry spot out of direct light.
Break flowers, stems and leaves into smaller pieces and put them into a brown paper bag for short-term storage. Close the bag tightly and place it in a cardboard box. Set the box in a cool, dry spot out of direct light.
Grind or powder the dried yarrow and pour it into sealable food-storage bags. Place the bags out of light in a cool, dry spot.
Seal paper bags of whole dried yarrow, bags of smaller pieces or plastic bags of ground yarrow in airtight containers for longer periods of storage time to protect it from insects and rodents. Store in a cool, dry spot away from exposure to any light.