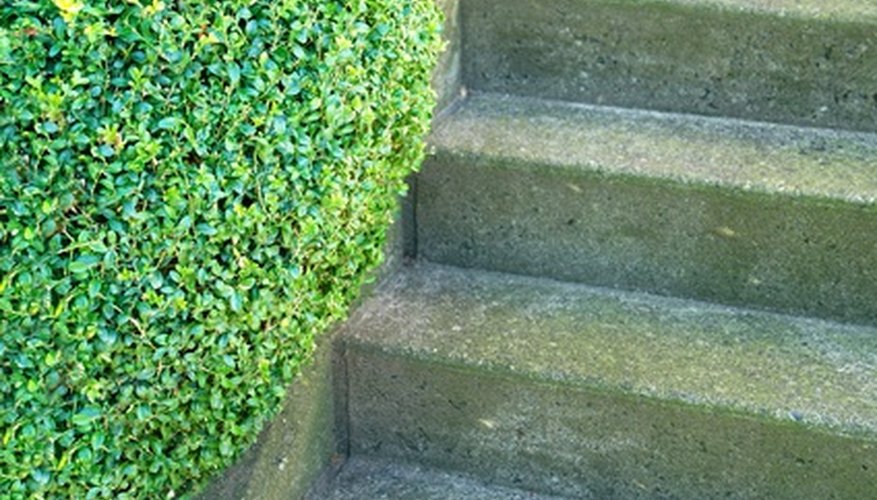 When most people think of topiary, they think of exotic animals and fanciful shapes. But the most common forms of topiary include geometric shapes such as spirals, squares, rectangles and circles. Maintaining the shape of a topiary ball can be challenging. The secret to trimming a topiary circle is to use a guide. Without a guide, a free-hand topiary circle can soon look lopsided or even oval in shape.
Cut a length of galvanized wire long enough to circle your shrub.
Flex the wire to the point that it curves into a perfect circle.
Turn on a soldering gun and allow it to heat. Melt a bead of solder on one end of the galvanized wire. Touch the other end of the galvanized wire to the bead of solder. Allow the soldier to dry, fixing the wire into a perfect circle.
Soak a cloth with liquid bleach. Swipe the cloth over the blades of garden shears before trimming your shrub to prevent the spread of disease.
Place the galvanized wire circle over your shrub to act as a guide. Snip away the tips of any branches that extend beyond the guide.
Things You Will Need
Galvanized wire

Wire cutter

Wire soldering flux

Garden shears

Bleach

Cloth
Tips
Never remove more than 3 inches from the end of any shrub branch. If your shrub has more than 3 inches of growth, schedule follow-up shaping sessions every three months to remove more of the shrub. Work gradually to restore the shrub's shape.

Pinching the ends out of the shrub's twigs will encourage bushier growth and a more dense shape.
Warning
Always wear protective gloves when working with soldering tools. Soldering should be performed in a well-ventilated room to avoid inhaling gases released by solder flux.