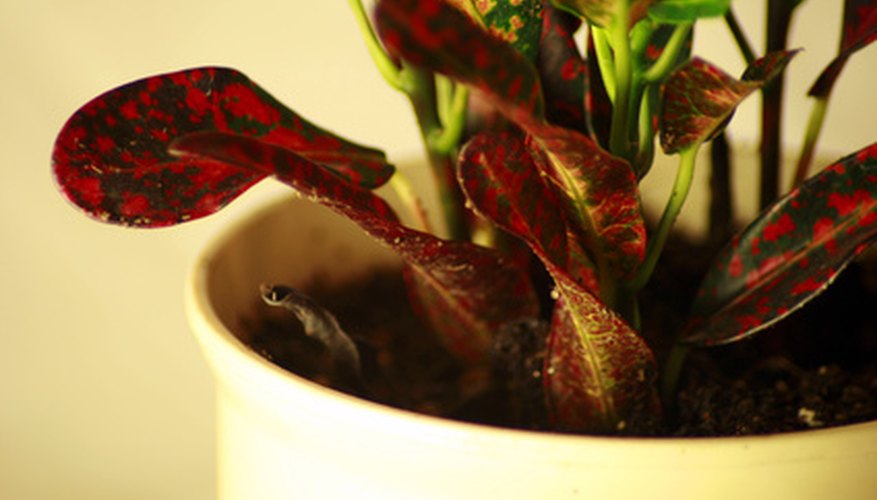 Take advantage of the natural light flooding into your sunroom by displaying your favorite house plants. Creating your own indoor garden brings the outdoors in for a comfortable and relaxing living space. To create the design, arrange a set of striking orchid blooms along a corner plant shelf to create a space for your collection. Air plants like tillandsia are ideal nestled within a container sitting on a plant stand.
Hanging Plant Display
A modern twist on the traditional hanging basket is a wall plant pocket. Wall planters are flat on one side to mount onto a wall, such as a sunroom. Wall planters are filled with nutrient-rich soils and then planted with sunroom plant favorites like bromeliads and asparagus ferns. Because they are lined, you don't have to worry about water seeping out the bottom to ruin a sunroom wall. Pocket planters are made in a wide range of sizes, colors and shapes for your own one-of-a-kind design. To create a classic design, mount a trio of wall planters side-by-side on one of the sunroom walls. Spread them out at least 1 foot per planter or arrange them side-by-side to create the look of one large planter.
Plant Stands
Add plant stands in various sizes around the sunroom to display your favorite plants like a collection of orchids. Plant stands are made in a variety of materials like bamboo, teak and iron, to fit into any style of sunroom. Some plant stands have one long shelf, while others resemble a small bookcase with multiple areas for displaying the plants. To showcase your plants on the stands, nestle the plants stands kitty corner around the sunroom or directly under a window. This frees up space for other sunroom essentials like comfortable seating, accent tables and bookshelves. For a seamless design, use the same color container, varying the size according to the plant.
Rolling Window Box
A classic idea for displaying plants is using a rolling indoor window box lined with plastic to prevent leakage. Castor-mounted window boxes cut to any size allows you to create your own design to fit the room. They are easily move around the sunroom to give the plants more or less sunlight. Rolling window boxes are also sized to fit potted indoors plants to easily change the look of the window box out each season. To create a classic window box design, use fluffy indoor plants like window star in the middle of the window box. Their dark green, glossy leaves grow in an upright form to help fill in the box. Along the sides, add a trailing ivy plant to frame the window box for a classic design.