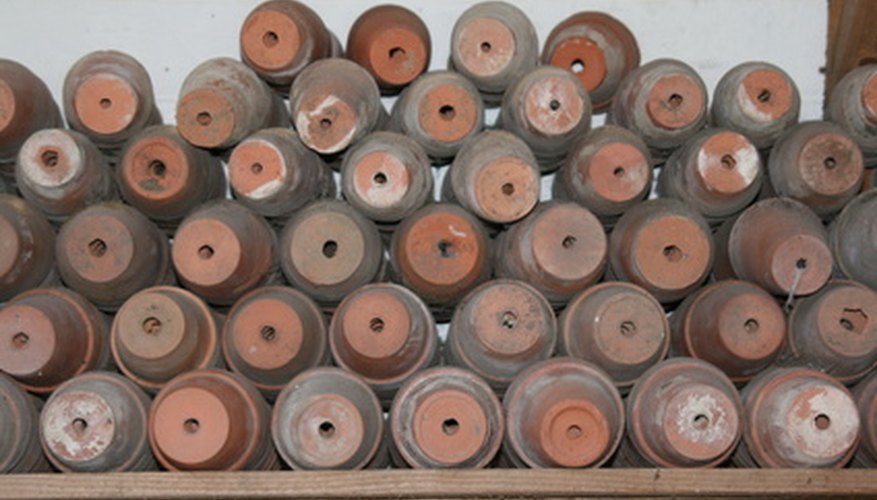 Artistic gardeners find a variety of crafty ways to use the garden pot collections they accumulate. Garden pot crafts combine clay, terracotta, ceramic and plastic containers into conversation pieces, displays and gifts. Garden pots are a good kid's craft material for camp, school and home projects. New terracotta pots are an inexpensive craft supply that can be found in garden centers, big box and craft supply stores. The surface of a pot can accept paint, glue, crayon and grout.
Decorated Pots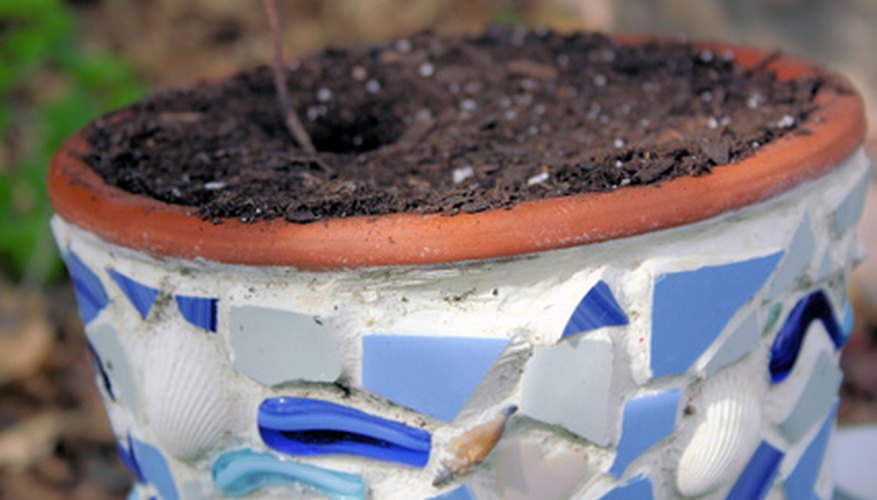 Plant pots are nice surfaces for many types of decoration. Mosaic-encrusted pots are a good way to use broken pots, china and tile. Rocks, marbles, glass and stones are also used to decorate plant pots. Children enjoy gluing items to plant pots. Foam shapes, pom poms, flat marbles, copies of photos and stickers are materials that children can safely use to decorate clay or plastic garden pots.
Small-to-medium clay pots are a good container for homemade candles. New, clean pots can be decorated with paint or embellishments for a gift container to fill with wrapped foods, seeds or toiletry supplies. Raffia and grosgrain ribbon and bows are nice trims for clay pot gift containers.
Painted Pots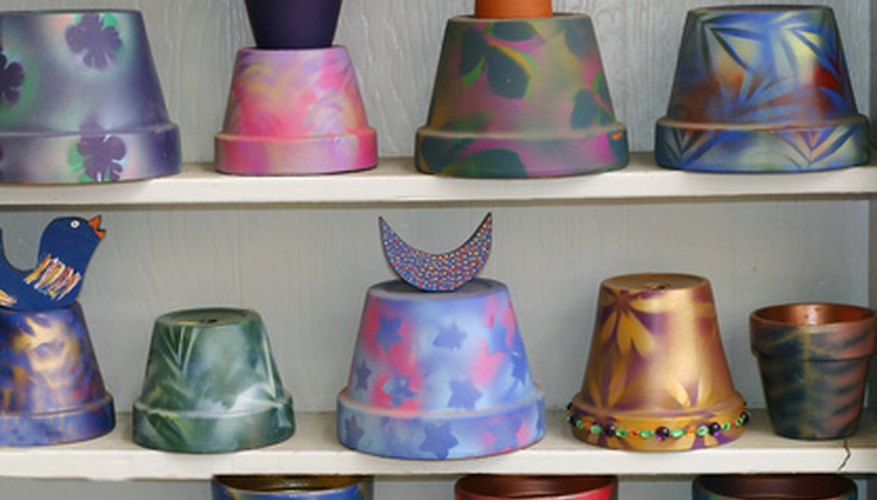 Clay plant pots can be painted for decorative touches to your home interior or the yard. Pots are painted in solid colors with painted flowers, shapes or full scenes. Decorations are painted with sponges, brush or paint pens. Children can decorate pots for gifts for family members or teachers. A large pot can be painted for guests or a class to sign their names as a keepsake piece for a bridal couple, school teacher or retiring individual who gardens. Painted pots may be filled with lush plants for a deck or entryway.
Dimensional Garden Pot Crafting
Characters can be made by threading pots onto weather-proof rope. Characters and animals made from clay pots are displayed in gardens and on benches. Moss and soil can be tucked into them with cascading creeping plants, alyssum and lobelia for hair and textured animal fur. Tiers of plant pots can be set up at tilted angles by threading a series of them on to re-bar or wire with plants cascading from the interiors for a stunning yard display. These "tipsy pots" can be left their natural color or painted in acrylic and sealed for all-weather displays. A fountain kit combined with three large ceramic or sealed terracotta pots and a saucer can be stacked as a long-lasting fountain feature for the interior or exterior of a home.