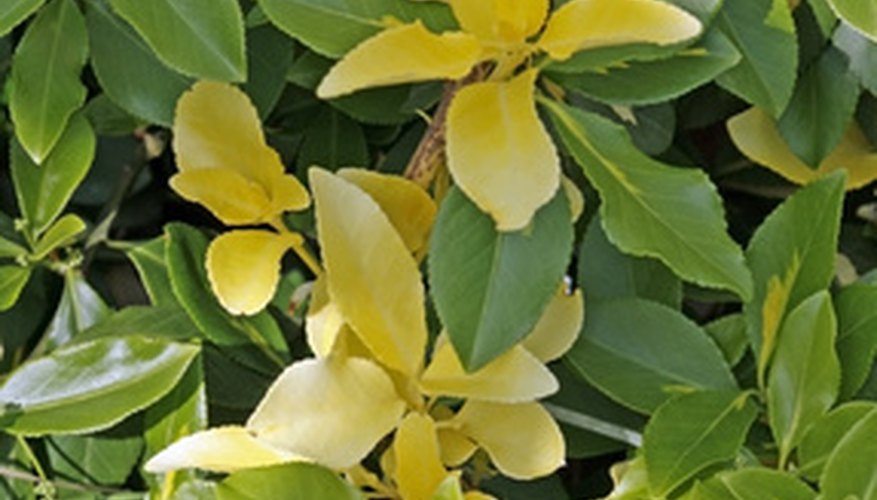 Although the sight of deer in the landscape can be thrilling, when deer are damaging expensive shrubs the excitement wears out quickly. To co-exist with nature, it is best to plant shrubs that deer don't like to eat, or browse, in your gardens rather than try to keep them out with expensive and unsightly fencing.
Butterfly Bush
The butterfly bush (Buddleia davidii) is a flowering perennial that is appropriate for USDA horticultural zones 5 to 9. It produces long spikes of flowers that are attractive to butterflies and hummingbirds along with fuzzy silvery leaves. The butterfly bush grows in all types of soil and is drought tolerant once established. It is best to cut the bush back by 1/3 or more after flowering to force the shrub to generate another round of blooms. In winter, after the shrub has lost all its leaves, the butterfly bush can be cut back as far as 6 inches from the ground.
Loquat
The loquat (Eriobotrya japonica) is a shrub or small tree that grows up to 15 feet tall and 10 feet wide. It has broad drooping leaves that are not attractive to deer. The loquat is appropriate for planting in USDA horticultural zones 8 and warmer because it is not cold hardy. It grows in average garden soil and looks best if planted in clumps. It produces an edible fruit in the fall. It is easy to reproduce from seed obtained by drying out the fruit.
Rose of Sharon
The rose of Sharon (Hibiscus syriacus) is a blooming shrub that grows best in USDA horticultural zones 5 to 9. It produces large open-faced hibiscus-like flowers up to 2 inches across with some double blooming varieties available. The color of rose of Sharon bloom varieties available are purple, pink , white and sometimes red. They are easy to grow, but need extra moisture and protection from hot afternoon sun in the South and desert areas. A row of rose of Sharon shrubs can be maintained as a blooming hedge by pruning back the plants to the desired height regularly.
Wax Myrtle
Wax myrtle (Myrica cerifera) is an evergreen shrub appropriate for planting in USDA horticultural zones 7 and warmer. It is a native shrub to the United States and produces fragrant leaves and fruit that is eaten by a wide range of songbirds. The wax myrtle can overgrow its bounds and grows into a small woody tree if not pruned correctly. If given a severe pruning, the wax myrtle easily recovers once it is well established. Buy wax myrtle shrubs when they are small, as they grow rapidly, and it gives the plants a better chance to adapt to their new surroundings.
Southern Yew
The Southern yew (Podocarpus macrophyllus) is an evergreen shrub or small tree that has slender dark green leaves that deer avoid. It is an attractive shrub because the leaves continue to grow thickly at the bottom of the shrub as it matures, giving it a full top-to-bottom growth habit. The Southern yew is appropriate for USDA horticultural zones 7 and warmer. Although often suggested as a foundation plant because of its ability to grow in dense shade, the large, aggressive, and difficult to remove root system can damage home foundations after a few years of growth.