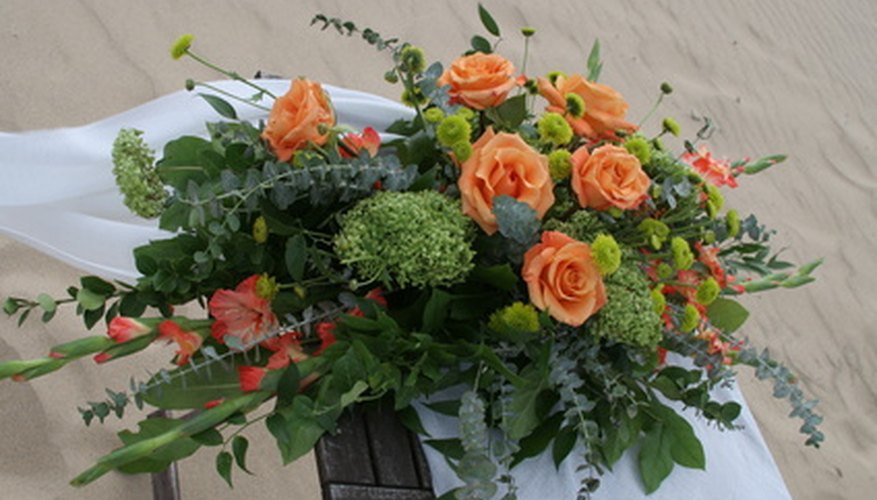 Flowers in the house bring your garden inside. If you're tired of putting the flowers in a vase and calling it quits, consider arranging the flowers. Floral arrangements can be a simple as three rosebuds at different heights, complemented by greenery in a bud vase or as complicated as a gerbera daisy topiary standing 3 feet high. The basic equipment needs for floral arranging include floral foam, clay, tape, containers, waterproof plastic, shears and sphagnum moss.
Asian
Ikebana is the Japanese art form of arranging flowers. There are three types of arrangements: slanting, upright and cascading. Asian flower arrangements are more relaxed and don't need to follow the Ikebana rules so closely. The arrangements are sparse so that each flower plays an important part in the overall visual impact. The greenery is used to complement the flowers and not just fill out the arrangement. Twigs, stones and other natural accessories are used to call forth nature. The elements and the space between the elements are part of the overall design.
Most Asian flower arrangements are meant to be viewed from only one angle because the form is derived from the Ikebana art. In Japanese homes the arrangements were placed in the tokonoma alcove, the spiritual center of the home. The alcove only allows viewing from one side.
Modern
Anything goes in modern floral arrangements. The look can be geometric, clean and stark or wildly abandoned. The flowers are an integral part of the arrangement but all elements are important. The container may outshine the flowers. Flowers are manipulated, taken apart and put back together. Greenery is bent and contorted. Modern arrangements are meant to be appreciated for themselves not as a vehicle to show off the flowers.
Traditional
Think of a formal dinner with flower arrangements on each table and you're mostly likely picturing traditional arrangements. The flowers are first and foremost. The container may be completely hidden by greenery or sphagnum moss. Some traditional arrangements simply use a flower pot saucer filled with floral foam taped to the saucer as the container.
The shapes of traditional arrangements are round, triangle, one-sided, pyramid or an inverted fan such as a bouquet of roses with baby's breath in a tall vase.
Casual
A subset of traditional, the flowers look as if they've plucked from the garden and put into a vase without much thought. A closer examination shows that the flowers have been chosen for their shape and colors. Containers include ordinary objects like baskets, watering cans, pitchers and milk jugs. The containers complement the flowers but aren't the focal point.