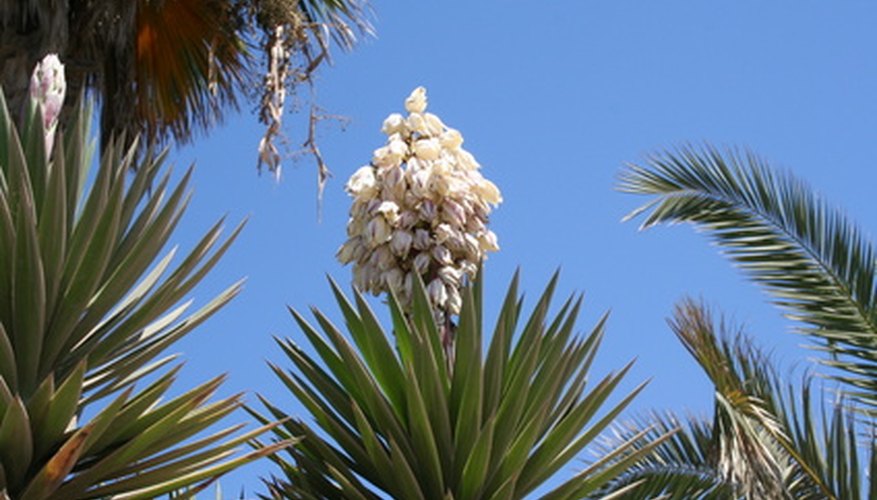 Although Florida is known for its summer downpours, sometimes this state with its hot tropical climate experiences periods of drought. When droughts occur in a region, it's important gardeners select shrubs, flowers and other plants that are able to tolerate extremely dry conditions. According to Floridata.com, a plant is considered drought tolerant if it's able to survive a dry period that's more than two to three months without watering.
Silver Buttonwood
Silver buttonwood is a low branching shrub that typically grows in coastal swamps, found in areas such as Volusia and Dixie counties. This drought-resistant shrub has evergreen leaves that are either lance-shaped or oblong. Although its flowers are not easily seen, its fruit clusters are showy and have brownish-red buttons shaped as cones that contain numerous tiny fruits. This plant does best in full sun, but can tolerate partial shade.
Firebrush
Firebrush is an evergreen shrub with whorled leaves that are oval to elliptical in shape. It grows rapidly and produces clusters of fruit. This shrub is a native plant to southern and central Florida and does best grown in full sun, although it can also do well in partial shade. Once firebrush becomes established, it's drought tolerant. It looks best when grown in borders or a mass planting and is exceptionally stunning when grown with white annual flowers.
Spineless Yucca
The spineless yucca, also known as giant yucca, is a popular South Florida landscape plant. It's so-named for its pliable leaves that lack spines on their tips. This yucca can grow as tall as 30 feet high, according to Floridata.com. As the plant ages the trunk becomes thick and rough. Leaves are shiny green and grow in a spiral shape. Just as other yuccas, this plant is extremely drought resistant as it's a succulent that's able to store water in its puffy leaves. It has white flowers shaped as bells that grow on tall stalks.
Flowers
Mexican zinnias are exceptionally heat and drought tolerant with the Persian carpet cultivars being probably the most tolerant species. Although this flower can withstand long, hot summers, it can't take frost. Indian blankets are known for their bright daisy-like flowers and drought tolerance. The centers of the flowers are large and rose-purple in color with frilly thick petals that range in colors of yellow, orange, crimson and copper scarlet.
Vines
Beach sunflowers are exceptionally drought resistant vines found growing throughout Florida. They're a spreading vine with heart-shaped leaves and flowers that are bright yellow. They're also used as ground covers, in mass plantings and are for stabilizing beach dunes. Beach bean is a vine that grows along coastal areas and beach dunes. The vine's flowers are purplish pink and grow on long stalks. They're mostly found in the southern Florida peninsula and in central Florida. This drought tolerant plant needs full sun and is propagated from seeds with ocean currents helping in seed distributions.