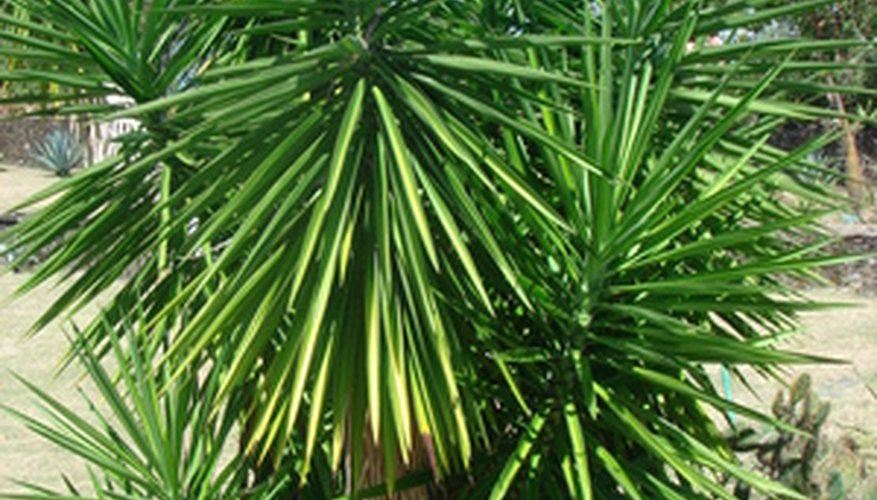 The yucca root, also known as a cassava, grows in humid tropical areas such as Brazil, Nigeria, Thailand, Indonesia, and Zaire. The plant also can be found in Southeastern areas of the United States such as Florida, Tennessee and North Carolina. The yucca looks a lot like a small palm tree and is a good source of starch. The Yucca root tuber averages 1 to 2 feet in length when harvested. Care needs to be taken to dig the tuber out properly. Damaged tubers tend to spoil quickly and aren't good for storage.
Cut the upper half of the stems and leaves off of the yucca plants about two weeks before harvest time. This will increase the shelf life of the yucca roots from a few days for up to two weeks.
Place a shovel about ½ to 1 foot on the outside perimeter of the base of the yucca plant. Dig carefully around the root to avoid cutting into the root, which could damage and reduces its potential to be stored.
Dig around the base of the root until the bottom of the tuber is reached.
Slide the shovel underneath the bottom of the tuber. Push the shovel backward like a lever to loosen it from the soil.
Place one hand under the bottom of the yucca root and the other hand on the base of the stem. Lift the tuber out of the ground.
Tip
The yucca root tuber often is 1 to 2 feet long, and older plants can have roots that reach up to 5 feet in length.