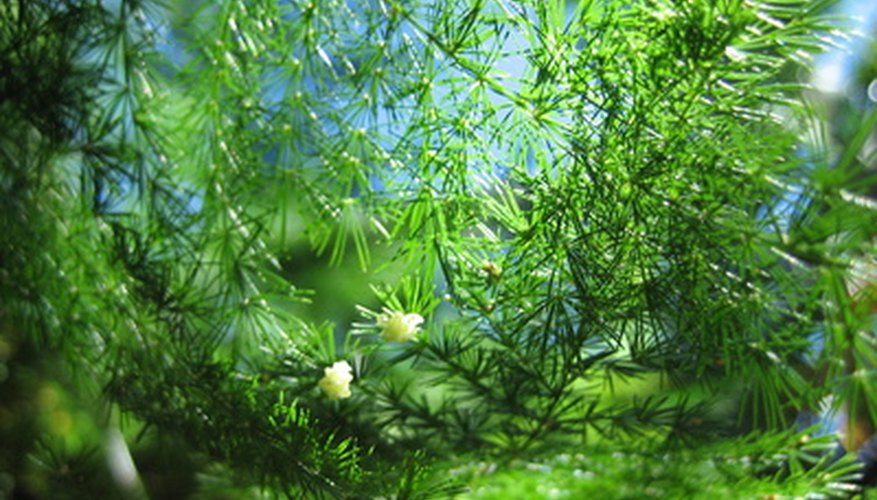 The asparagus fern is neither a fern nor an asparagus. It's a relative of the asparagus and puts out young shoots that look very much like asparagus, but they are not edible. As the shoots mature, they take on a more fern-like appearance--hence the name. The asparagus fern makes a good indoor plant, often raised in hanging baskets, although it can be grown outdoors in warm climates, especially in USDA Zones 10 and 11.
Collect the ripe, red berries from an asparagus fern. Do not remove the fleshy red berry from the small, round black seed within.
Fill a growing tray with a good potting soil and lightly dampen with a sprayer.
Place one red asparagus fern berry in each compartment of the growing tray, depending on the number of plants you wish to grow. The asparagus fern has a rather high rate of germination. Plant each seed approximately 1/4 inch deep and cover with potting soil. Dampen once again with a sprayer bottle.
Place the growing tray in a sunny location where the tray can be maintained at a temperature of between 60 and 75 degrees F, and be patient. Spray the soil with water as necessary to keep the soil damp but not overly wet. Asparagus fern can take up to 10 weeks to germinate.
Wait until the plants have at least three shoots before transplanting to a larger pot filled with potting soil.