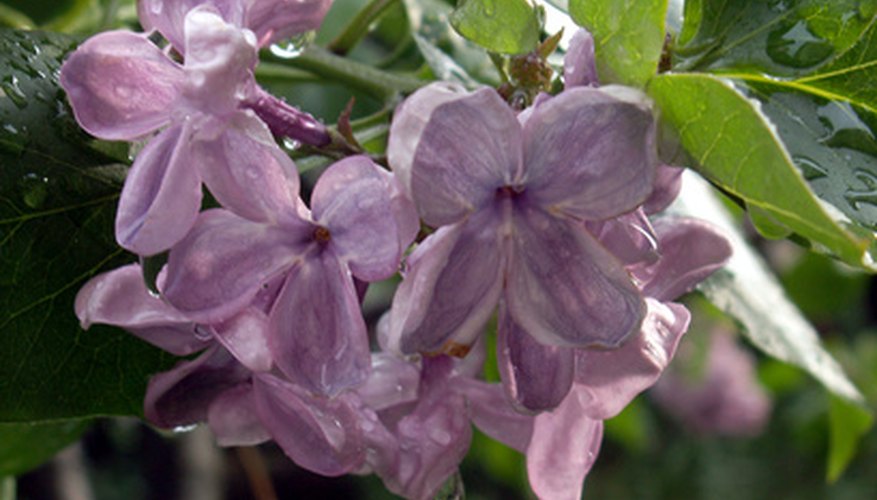 Lilacs are typically pollinated by bees. In the spring, the flowers emit a heavy and sweet smell that attracts them to the flowers so that pollen can be passed from the male pistil to the female stigma. Each flower of the lilac bush contains both the male and female reproductive organs. If bee populations are low around your lilac bush, you may opt to hand-pollinate your lilac bush to ensure that the flowers get pollinated.
Use rubbing alcohol to clean your paint brush before beginning to fertilize your lilac flowers. Use a cotton swab if you don't have an artist's paint brush to use. Begin the process in the morning hours. The best time is between 10 a.m and 2 p.m. This is the time when bees typically would pollinate your lilac bushes.
Put your brush tip into the center of a lilac flower, and gently twirl the brush around for about 30 seconds. Each lilac flower contains both the female stigma and the male anther, so twirling the brush inside the flower should loosen the pollen from the anther to the stigma for fertilization.
Continue to pollinate as many flowers as you can on your lilac bush with the brush. Sterilize your paintbrush with rubbing alcohol or replace the cotton swab before moving on to a new lilac bush to prevent the spread of pests and disease.
Repeat hand-pollination every two days so that you can be sure that you are pollinating as many of the flowers on the bush as you can.