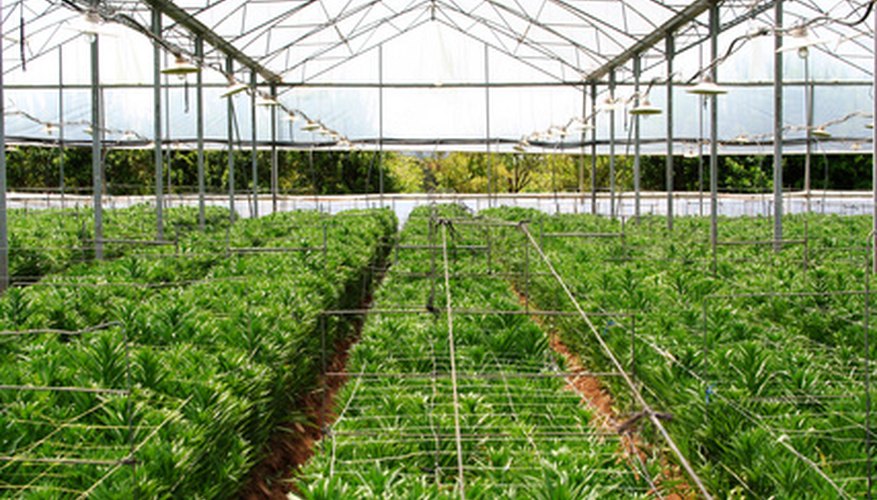 Greenhouses are a great way to extend a growing season, add space to a garden or grow plants outside of your zone. There are many types of greenhouses. The style you choose will be based on the space you have. The greenhouse material you choose depends on the climate and location you have for your building.
Types
There are four main types of greenhouse building styles: lean-to, even span, window mount and free standing. A freestanding greenhouse is a building unto itself. Size and shape can vary, but it has the most exposure, with all four sides made from the chosen greenhouse material. Lean-tos are a favorite for homeowners with limited ground space but with their own homes to do with as they please. They offer a "half" green house; one side from the center attaches to an existing structure--either home, garage or commercial building--and the other is a traditional greenhouse structure.
For homeowners with a great deal of property but restrictions on freestanding buildings, an even span greenhouse is a good option. It has one side attached to an existing structure, but the two broad sides with the most length and one end are free and made from greenhouse material. This offers the second-most space. Finally, for those with no land available, a window-mounted greenhouse works, if allowed, in apartment and condominium settings.
Materials
Glass is relatively inexpensive and easy to maintain but breaks easily. It's also harder to control internal temperatures because glass magnifies heat and moisture. Clear fiberglass is a good alternative, only a little more expensive and stronger and more durable. But it has maintenance costs and will need re-surfacing with resin every 10 to 15 years.
Rigid, double-wall plastic (Plexiglas) is a great greenhouse material. It's more expensive than either glass or fiberglass but lasts longer than fiberglass with proper care and doesn't break like glass. It suffers a little in transparency and has the same heat and humidity control issues other hard materials have. Plastic film is a final greenhouse option. It's cheap and easy to use in construction but tears easy, is usually somewhat opaque and blocks a larger percentage of light.
Style
There are five basic greenhouse styles: quonset, A-frame, rigid frame, post and rafter and gothic. Quonset is easy to build and efficient to run, but space is lost because of the rounded roof, and there's no actual wall area. Gothic is similar to quonset but taller, providing more wall space and headroom. Neither gothic nor Quonset is good for rigid materials--they work best with plastic film construction.
Rigid frame offers much more air space inside a traditional-style building with no rafters. It is not as sturdy and only used with lightweight building materials such as Plexiglas. A-frame is fine for glass or fiberglass constructions but has the same limitations as quonset has for space. Post and rafter is a traditional building with roofing framework to support the heavy glass and fiberglass construction materials while providing the maximum amount of space.