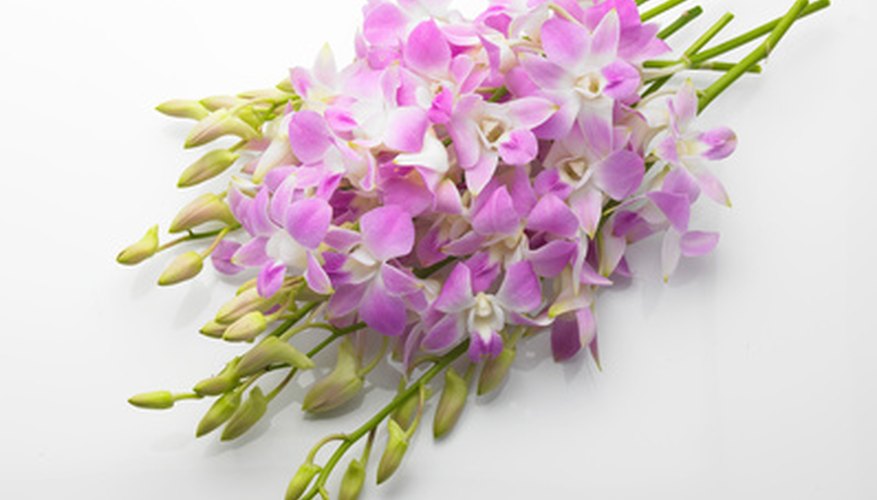 Embedding flowers in resin is a fun project that can be educational for older children. After flower specimens are selected from the garden, each can be identified and then embedded in resin to retain its appearance for a long time. The best result is achieved by drying your flowers first in silica to remove moisture from the flower and plant material so that the flower and the resin will form the best connection. For fun, flowers and leaves can be embedded in their natural state; this will allow you to experiment with the resin before using a dried flower.
Purchase a resin mold from the craft store and select a mold release. Coat the inside of the mold with mold release.
Mix the plastic resin and catalyst exactly as instructed on the container. Use an unwaxed paper cup, eyedropper and Popsicle stick to mix the resin. Cut through the resin to create as few bubbles as possible.
Pour a thin layer of resin into the mold. Because each layer cures at its own rate, you may mix several batches of resin for one mold. Allow your first layer of resin to dry to the consistency of gelatin. Do not touch the resin with your finger, as you will leave fingerprint smudges. A light touch with a clean Popsicle stick that comes away easily will tell you when it is time to insert your flower head.
Mix a second batch of resin sufficient to cover the flower head. Note that different layers may use different directions. Embed your flower head carefully. Allow this layer to dry. Consider adding the name of the flower type on a carefully lettered piece of paper.
Mix your last batch of resin and embed your label. Some molds may have five or more layers, depending on what you are including in each layer. It is important to determine which face of the mold will be up when you start this process. Allow the entire mold to cure for 24 hours.
Remove your embedded resin from the mold and clean the mold as suggested by the manufacturer. You can lightly sand your resin disk over very fine sandpaper if necessary.
Things You Will Need
Mold

Mold release

Plastic resin

Plastic resin catalyst

Eyedropper

Unwaxed disposable cups

Popsicle sticks

Label

Fine sandpaper
Tip
Experiment with different fresh and dried flowers for better results.
Warning
Resin may change or soften at temperatures above 120 degrees Fahrenheit.