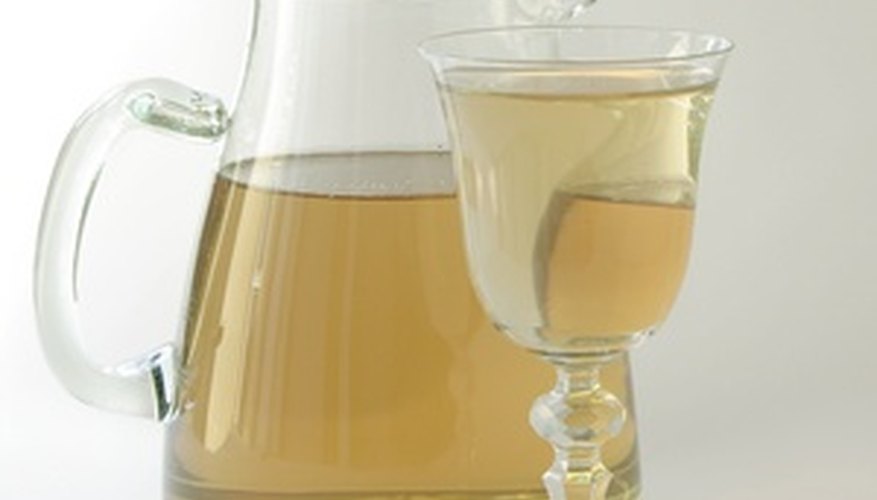 While wine is most often associated with grapes, it can be made from almost any type of fruit or flower. Dandelion and clover are two popular and easy wines to make from flower heads. You can make flower wine with a wine-making kit, or you can use a food-grade pail with a tight-fitting lid and an airlock. Once the wine has fermented and been bottled, it will benefit from aging 6 months to a year before drinking.
Make Your Brew Vessel
Procure a 2- to 3-gallon food-grade plastic pail with a lid. You can often get these from local fast-food restaurants.
Drill a single hole in the center of the pail lid.
Insert an airlock into the center hole and silicone around the base of the lock on the outside to hold it in place.
Wash and dry the pail and lid to remove any dust and debris.
Make the Wine
Pick 2 quarts of dandelion or red clover flowers. Remove any green petals and stems from the flower heads and gently wash the flowers to remove dust. Flowers are best picked on a sunny day after the dew has dried.
Place the flower heads into the brewing pail, and add the juice from three lemons and a quarter-pound of raisins. Pour 1½ qt. of boiling water over the flowers and fruit. Cover and let sit for 24 hours.
Strain the mixture through a colander lined with cheesecloth to remove the flowers and raisins. Place the colander over a large bowl or stockpot to collect the liquid.
Wash and dry the pail and return the liquid to the vessel. Stir in 2 lb. of sugar until the sugar is dissolved into the liquid.
Sprinkle the package of wine yeast over the top of the liquid in the pail. White wine yeast works well for flower wine, but you also can use champagne or red wine yeast.
Place the cover on the pail, securing it tightly in place. Fill the airlock half full of water. Set the pail in a warm area and allow it to ferment for 60 days. If the airlock is still bubbling, allow the wine to continue fermenting for another 15 to 30 days until all fermentation has ceased.
Siphon the wine into clean bottles with food-grade plastic tubing and cap. Place the wine in a cool, dark area and allow it to age for at least 6 months.