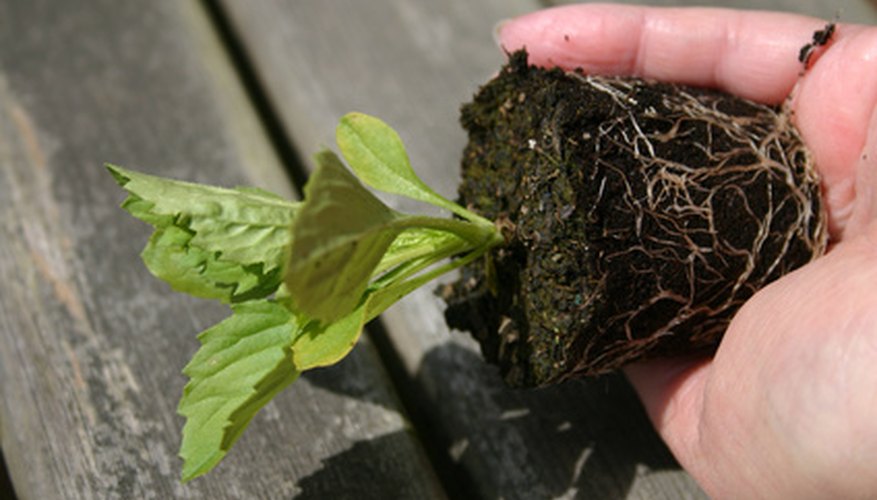 One of the traditional methods of starting vegetable seeds indoors involves placing seedling and pots inside a plastic bag. The plastic bag creates a miniature greenhouse that holds in heat and moisture, giving tender seedlings the chance to grow. Some gardening and seed companies manufacture seedling kits with peat moss, miniature pots and plastic domes that re-create this process. Growing a seedling in a plastic dome is a simple, cost-effective way to start seedlings early indoors.
Place compressed peat moss pellets inside peat pots.
Dribble warm water into each pot to release peat moss from its compressed state.
Hollow out a tiny planting pocket in the center of each peat pot using the tip of a pencil.
Plant a vegetable seed inside each planting pocket. Plant each seed twice as deep as the seed is wide.
Cover the vegetable seed with peat moss.
Place the peat pots inside the plastic dome. Close the dome lid.
Place the container with the plastic dome under a plant light or in a south-facing windowsill.
Check the peat moss daily and mist if the peat moss dries out.
Remove the dome from over the seedlings when they germinate and mature to the point that they produce two new leaves. Continue to allow seedlings to grow indoors.
Place the seedlings outdoors each day to allow them to harden off once all danger of frost has passed. Bring the vegetable seedlings in at night.
Transplant the seedlings to a permanent location outdoors in your vegetable garden once they have hardened off.