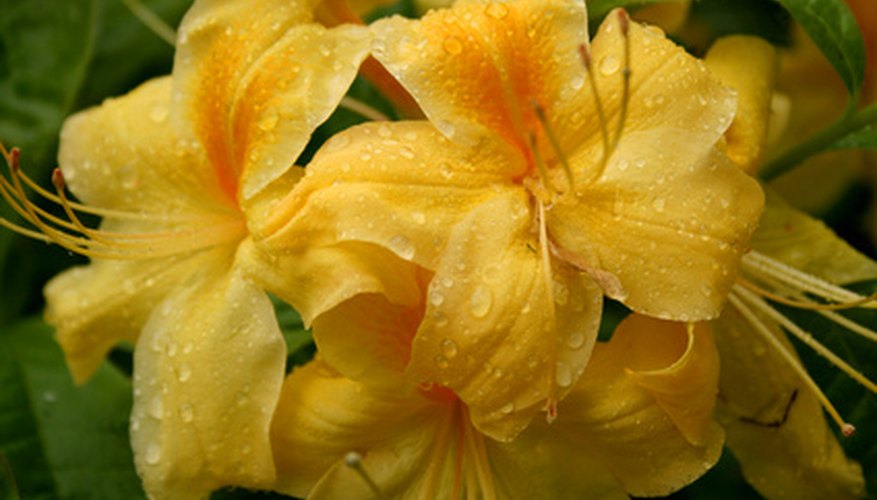 Adding some spring-blooming yellow shrubs to your Virginia garden is certain to give your year an eye-catching start. Yellow flowering shrubs make striking contrasts with purple spring bulbs like purple crocuses, tulips and hyacinths. They create harmonious warmth with yellow daffodils, orange and pink tulips and red columbines. For easy care shrubs, choose Virginia natives already adapted to the state's growing conditions.
Northern Spicebush
A member of the laurel family, northern spicebush (Lindera benzoin) grows wild in Virginia's woods and swamps and along stream banks. Normally standing 6 to 12 feet high, northern spice bush has attractive pale green branches with 6-inch glossy, dark green tapering leaves. The shrubs produce heavy clusters of delicate yellow blooms in early spring.
The spicily scented leaves open after the flowers. Next come scented red berries. Northern spice bush provides a third season of color with its yellow autumn foliage. Brewed leaves make a pleasant tasting tea.
Plant northern spicebush in sun to part shade and well-drained sand or sandy loam soil. It prefers soil on the moist side and is a good choice for shady damp spots. Spicebush grows quickly, and its flowers and berries will attract birds and butterflies.
Flame Azalea
Flame azalea (Rhododendron calendulaceum) blooms in Virginia's shady woods and along woodland edges. During May, the 6- to12-foot shrub's funnel-like golden yellow to apricot blossoms appear before or simultaneously with its leaves. Up to 12 feet wide, these striking plants bring vivid color to Virginia's dry woodlands. In 2000, the Virginia Native Plant Society voted flame azalea its Wildflower of the Year.
Plant nursery-grown flame azalea in early fall or spring. It's happiest in areas with cool summers, says the Plant Society. Protect it from the worst of the winter cold. It likes moist, acidic well-drained sand or loam with plenty of organic material. Keep it well mulched. All parts of flame azalea are toxic if consumed.
Eastern Sweetshrub 'Athens'
The wonderful fragrance of blooming eastern sweetshrub (Calycanthus floridus) fills the slopes of Virginia's woods in May. Growing up to 9 feet high, these round shrubs have glossy dark green leaves that turn yellow in autumn. While the plants growing in Virginia's woods normally produce dark red to maroon blossoms each May, Virginia Tech lists the yellow Athens cultivar of the shrub as a native Virginia plant. They have included it in their Hampton Roads Agricultural Extension Bayscape Garden.
Athens' 2-inch yellow blooms make great cut flowers. Plant it in sun--for bushier plants--to part shade. The plant likes deep, moist loam but will accept a wide range of soils. Although highly pest-and-disease-resistant, nursery stock sometimes struggles after transplanting. Shape the shrubs by pruning right after they bloom.