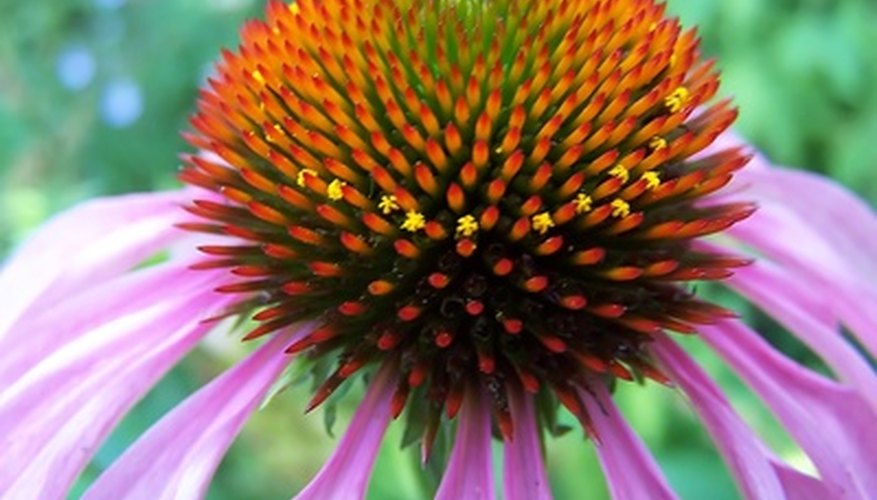 Growing perennial flowers eliminates the need to plant flowers every year. Creating a perennial garden involves choosing plants that tolerate climate conditions in a specific location. USDA hardiness zone 6 denotes a wide area reflecting average low temperatures between -10 and 0 degrees F. Knowing this range of temperatures allows gardeners to choose hardy perennial flowers that can survive the climate to return the following growing season.
Echinacea Kim's Knee High
Echinacea or purple coneflower produces daisy-like flowers with a button center. Medium purple flower petals point downward from the center, creating an interesting wilted appearance to the flower. These perennials grow up to 2 feet in height and bloom late in the summer.
Golden Prize Daylily
Daylily adds interesting spice and vibrant color to the landscape with graceful cupped flowers. Golden prize daylily produces bright yellow flowers in on stems that protrude upward from graceful blade foliage. Golden prize likes well-drained soil and tolerates sunny locations. This plant grows quickly and matures to a height of over 24 inches. Golden prize flowers in mid to late summer to provide abundant late season color to the landscape.
Tiarella
The delicate tiarella produces dainty white flowers resembling stars clustered on the flower stalks. Leaves are heart-shaped with multiple lobes that turned a beautiful bronze in the cooler fall weather. Tiarella prefers shade locations and consistently moist soil. This lovely plant grows to a height of 12 inches, making this plant a beautiful border addition to the shade garden.
Sedum Autumn Joy
If you're partial to rose colored flowers, sedum fills the bill perfectly. This lovely plant produces succulent, thick leaves in medium green that rise to a stately height of 2 feet above the garden bed. Late summer brings the cauliflower-like clumps of pink flowers. Gardeners consider sedum a ground cover. Flowers change color as bloom time progress, transforming the soft rose color to a dark pink. These plants flower for up to eight weeks and grow well in the full sun garden bed. Sedum works beautifully in the rock or slope gardens with dry conditions.