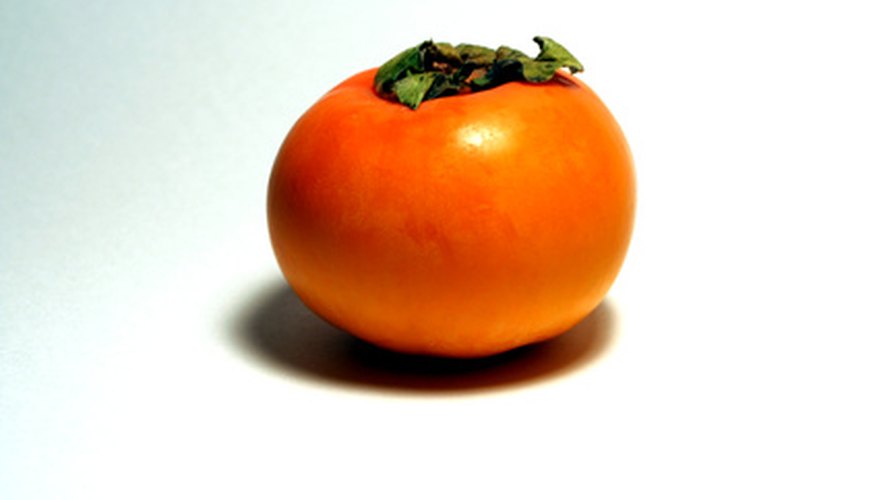 A single persimmon fruit delivers 21 percent of your daily requirement for vitamin C, according to an analysis by NutritionData.com. Plant your own vitamin factory in your backyard by sowing the seeds of Diospyros virginiana, D. kaki or D. lotus, three common persimmon varieties grown by backyard orchardists. This hardy tree, also prized for its ornamental foliage, can grow in any area with a maximum summer temperature of 95 degrees F and a minimum winter temperature of 10 degrees F, according to the US Forest Service.
Get persimmon seeds. Seeds can be purchased from most garden stores and nurseries, or obtained by harvesting the seeds from a ripe persimmon fruit. Cut the persimmon in half and scoop out the black seeds. Rinse the seeds thoroughly with water to remove all juice and pieces of fruit, and allow them to air dry for four to five days.
Stratify the persimmon seeds in September or October. This prepares the seeds for germination; they will not germinate otherwise. Lay a paper towel on a dish or plate and moisten it with water. Layer the persimmon seeds on the paper towel and cover them with another moist paper towel. Put the dish in your refrigerator for three to four months, keeping the paper towels moist at all times.
Fill a gallon-sized pot--make sure the pot is at least 12 inches tall, since persimmon seedlings develop a long tap root--with standard potting mix or garden loam. If the pot doesn't have drainage holes on the bottom, add a one-inch layer of gravel first.
Remove the persimmon seeds from the fridge in January or February. Plant one seed per pot, burying the persimmon seed approximately two inches below the surface of the soil.
Water twice daily or as needed to keep the soil moist. The seeds will germinate within two to three weeks and will appear at the surface within 60 days.