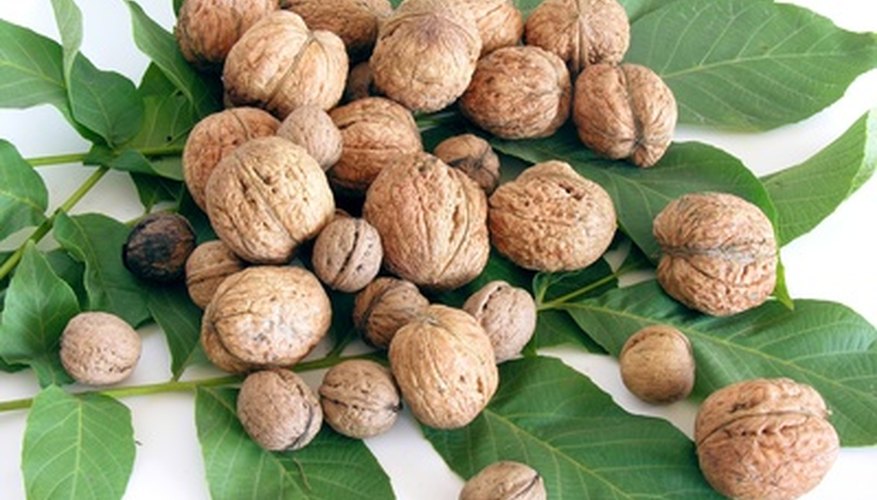 From the walnuts in your brownies to the pecans in those holiday pies, nut trees produce tasty, nutritious food. Most nut trees are easy to grow: you can start some from the nuts they produce. But some types of nut trees will only produce good nuts if you purchase a grafted hybrid tree. One advantage to growing a grafted tree is that it will produce the nuts you crave more quickly than trees you start from seed.
Growing Nut trees
Purchase a grafted nut tree at your local nursery in spring. The knowledgeable staff will be able to recommend varieties of trees that are well suited to your region. Be sure to ask if you must grow two different cultivars of the same type of nut tree, which many need for pollination.
Select a location with plenty of room for your tree when it grows to its mature size. Walnut trees can grow to 30 feet tall with a 30-foot spread. Brazil nut trees and pecans can achieve 150 feet in height. However, you'll only be able to grow Brazil nuts in a tropical climate. You can prune almond trees to keep them smaller and make harvesting nuts easier. Be sure to research the type of nut tree you are planting to avoid planting it too close to your home, garage, fences, other trees or outbuildings.
Dig a planting hole that is twice as large as the rootball of your tree. For a tree in a 5-gallon nursery pot, fill two 5-gallon buckets with the soil you dig out and then mix in 2 gallons of any type of compost and 1 cup of granular bone meal.
Fill your planting hole up to a level that will allow you to set your tree in to a level that will not cover the base of the trunk or the grafted section. Then fill the hole with the rest of the soil/compost mixture.
Water your young tree well and keep the soil moist until it begins to show strong signs of new growth. Then reduce the frequency of watering to once each week, but check the soil during very hot weather to make sure it doesn't completely dry out.
Fertilize year-old nut trees with a water soluble plant food having an N-P-K ratio of 20-20-20 every two weeks during spring, until the end of June. After its second year in the ground, give your nut tree 3 cups of granular fertilizer in April, May and June. As your tree grows larger, increase the amount of fertilizer.
Control diseases by keeping nuts picked up from the ground around your tree and by pruning dead, diseased or broken branches.