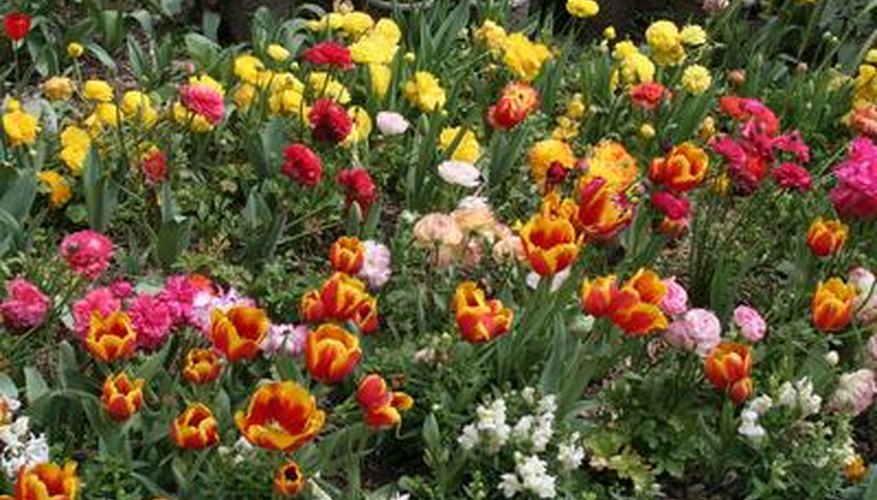 You don't need a lot of space to grow your own flowers and vegetables. In fact, you can create your own striking design using raised beds in small or large spaces. The key to designing either size garden is easy access. Being able to monitor the plants and flowers, as well as fertilizing and harvesting the plants, ensures you have a healthy and happy garden.
Keyhole Vegetable Garden
Create a keyhole garden design in your vegetable garden for easy access around the beds. A keyhole garden is one that has a center access path or keyhole that wraps around the beds so you can easily till the soil, water the vegetables and pick your harvest. Keyhole garden designs are ideal for maneuvering gardening equipment like wheelbarrows or stopping for a quick rest in between weeding. To create the keyhole garden, have the keyhole face south so that the tall plants, like tomatoes and bean poles are on the north side, preventing them from shading the smaller, low-growing plants like cucumbers and zucchini. Use mulch to create the keyhole path, ideal for helping the vegetables retain water and prevent weeds from shooting up through the soil. To ensure the path is level with the garden, rake over the space for an even design.
Raised Vegetable Garden
Create a raised vegetable garden filled with your favorite vegetables. A raised bed can be made in small or large yards, making them very versatile. Raised beds are also ideal because they allow the gardener to fill them with the right amount of soil mixture and compost. They also provide ideal drainage for healthy vegetables. A functional design for a bed is a rectangular shape, around 8 to 9 feet long and 4 to 5 feet wide, reachable form either side to make deadheading and harvesting simple. Space the vegetables out within the raised garden according to type to keep the vegetables in their own separate sections. Use one of the corners for growing herbs like basil, cilantro and thyme for your very own miniature herb garden.
Bright Flower Garden
Create a hot-color flower garden using flowers in fiery colors like red, orange, crimson and yellow. Bright flower gardens create exquisite fresh cut bouquets and will be the focal point to the landscape. Plant contrasting flower colors next to each other to create a blazing bed. Use bright yellow coreopsis blooms next to a fire red anemone flower. Balance the fiery colors with bursts of vibrant green plants, like a trailing sweet potato vine or sedum plant. Let these creepers meander around the bright garden to help simmer the bright colors. Make sure you have access to the flower beds by keeping at least 1 foot between the flower clusters. Spread gravel or crushed granite down to create the path, so you can easily maneuver around. For smaller flower gardens, use containers filled with the bright blooms to create the same effect.