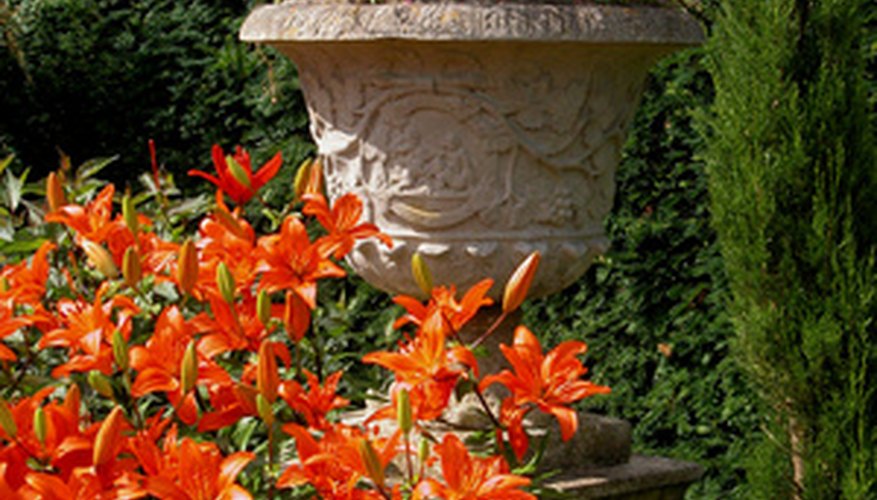 Concrete planters are a great accessory for your porch or patio. The thickness of concrete makes anything that you plant inside more resistant to damage from freezing and cracking. While new concrete planters can stick out when they have just been purchased, you can give your concrete planter an aged look with a little paint and the application of some moss. Before long, your planters will look as if you purchased them from an estate sale, or have had them for a long time.
Applying a Patina
Mix 1 part latex paint and 1 part water in each plastic container.
Apply the gray-black paint mixture with a sponge over the entire concrete planter.
Rub the paint away in places using a cotton rag to create varying tones in the texture of the paint.
Repeat steps 2 and 3 with the brown-green paint mixture.
Dab the white paint mixture to cracks and crevices to resemble limestone deposits. Wipe away the excess with a cotton rag.
Wipe the blue-green paint mixture across raised designs. Wipe away the excess with a cotton rag.
Adding Moss
Collect moss from around your area.
Chop the moss into fine bits.
Spread the moss over a newspaper in a dry, dark room and allow it to dry.
Combine 1 cup flour, 2 cups buttermilk, 2 packages dry yeast, 2 tbsp. of corn syrup and 1 ½ cups dry moss in a mixing bowl.
Put the mixing bowl in full sun and allow it to sit for approximately three days.
Brush the mixture on the exterior of your concrete container.
Wrap the container in plastic wrap and place in partial sun. The pot will grow mold in 2 weeks, and sprout a nice layer of moss within 6 weeks. Move the container to its final location when moss has grown.
Things You Will Need
Gray-black latex paint

Brown-green latex paint

Blue-green latex paint

Soft white latex paint

4 large sponges

Cotton rags

4 plastic containers

Moss

Knife

Newspaper

Corn syrup

Flour

Buttermilk

Dry yeast

Paintbrush

Plastic wrap