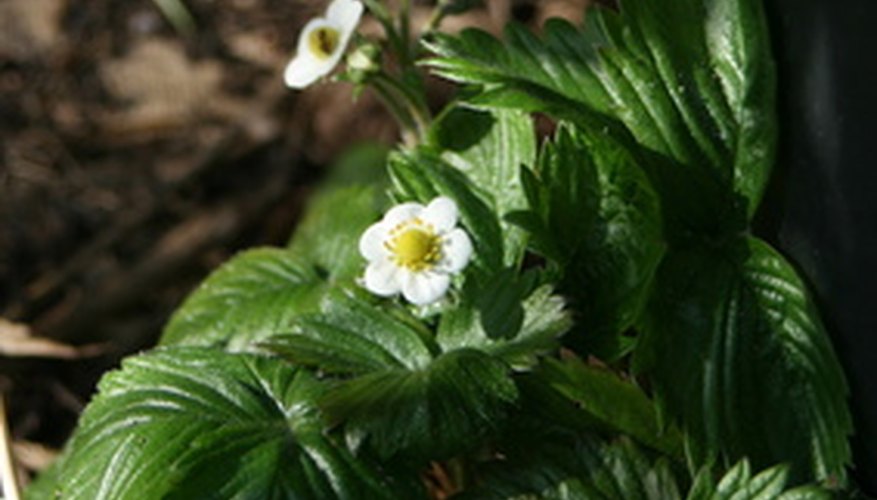 Because strawberries grow readily in containers, many gardeners opt to plant the tasty fruits in strawberry pots for a convenient harvest. Strawberries planted in a strawberry pot will grow and thrive much like those in the ground as long as they are tended to properly. In the autumn when the growing season draws to a close, prepare to winter over the potted strawberries.
Cut back the dying stems and foliage of the strawberry plants in the autumn when the growing season ends. Trim away all spent growth with pruning shears.
Wrap the strawberry pot with a thick layer of bubble wrap. Cover the bubble wrap with the heavy blanket to insulate the plant's roots.
Move the strawberry plants to a garage or a shed with temperatures that range 30 to 40 degrees F.
Keep the soil in the strawberry pot slightly moist over the winter months. Check the strawberry plants once each week, and provide a light watering just to keep the soil from drying out. Do not over-water; keep the soil just slightly moist.
Remove the insulating layers. Begin watering the strawberry plants more in the spring when the weather begins to warm. Move the strawberry pots back outside when the temperature reaches at least 50 degrees F.
Things You Will Need
Strawberry plants

Strawberry pot

Pruning shears

Bubble wrap

Heavy blanket
References