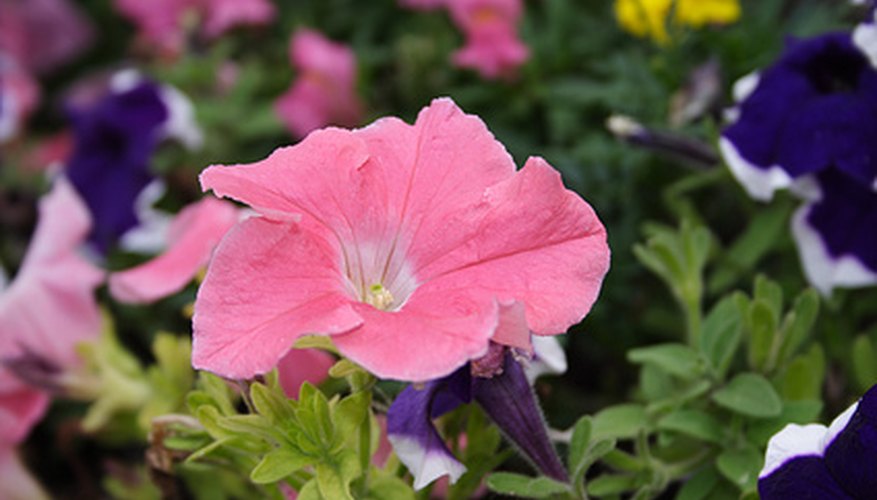 Petunias provide non-stop color from late spring until early fall, making these easy-to-care-for plants a favorite among gardeners. Colors range from white and delicate pastel pinks and lavender to vibrant hues of purple, rose and red. When planted in masses petunias create blankets of color softening the landscape and creating gentle fragrance. The colors you choose and the way you arrange them determine the overall effect you achieve.
Select one or two colors that appeal to you to add contrast in your gardening area. Keep the colors in the same color scale for a relaxing atmosphere. Two pastels in complementary colors work well for romantic nooks, while bright contrasting colors add spice and fire to the yard.
Place the petunias in the desired location and step back to view the overall effect. Position odd numbers of plants together to create a mass of color. Groups of three or five work well. Uneven numbers create a natural look as though the flowers have sprung from nature. Add the second color tucked into areas around the first.
Prepare the soil for planting in the area you have chosen. Petunias require rich, well-drained soil and thrive in a sunny location that receives five to six hours of direct sunlight a day. Work a 3-inch layer of well-rotted manure or compost into the soil to provide nutrients and improve drainage.
Space individual plants (following your color arrangement plans) 12 inches apart to allow room for the mature plants to grow. Water thoroughly to moisten the soil and water again when the soil dries.
Apply water-soluble fertilizer on a 10- to 14-day schedule following the application rate on the container.