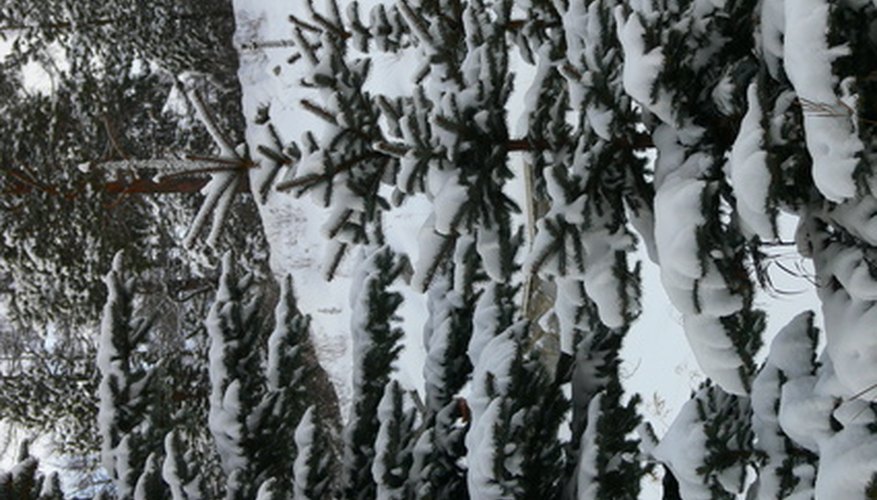 When growing in the wild, fir trees are tall and steeple-shaped, although most lose that lean look when grown in a yard landscape or garden. Many firs are hardy enough to withstand cold Alaskan temperatures and, in fact, thrive in the wet soil and cool temperatures throughout the state. Firs generally enjoy full sun to partial shade and require regular to moderate water. As members of the Pinaceae family, firs are evergreen trees.
Alpine Fir
The Alpine Fir (Abies lasiocarpa) is also known as the Rocky Mountain Fir and was found during the summer of 1952 growing near the Taku Glacier. This tree, which is narrow and steeple-shaped, can grow to 90 feet tall in the wild in moist soil and tolerates temperatures to minus-20 degrees Fahrenheit. The alpine fir has bluish-green needles that are up to 1-1/2 inches long. When used in a garden, the alpine fir tends to be shorter and wider. Alpine firs thrive in acidic soil.
Siberian Fir
The Siberian Fir ((Abies sibirica) is among the largest firs and can grow to well over 90 feet in moist, wild conditions. The tree is cone shaped with fragrant, gray needles. Common in south-central Alaska, the Siberian fir can tolerate shade and is hardy to minus-50 degrees Fahrenheit. It thrives in sandy, loamy or clay soils with pH ranging from slightly acidic to slightly alkaline. In summer, the Siberian fir produces small, white flowers.
White Fir
Found in south-central Alaska, the White Fir (Abies concolor) is native to the western and southwestern U.S., but grows well not only in Alaska but also in the humid summers of the Northeast U.S. This tree can grow to 70 feet and has blue-green needles that are up to 2 inches long. The white fir can tolerate temperatures to minus-30 degrees Fahrenheit and grows well in soil that is either slightly alkaline or slightly acidic.