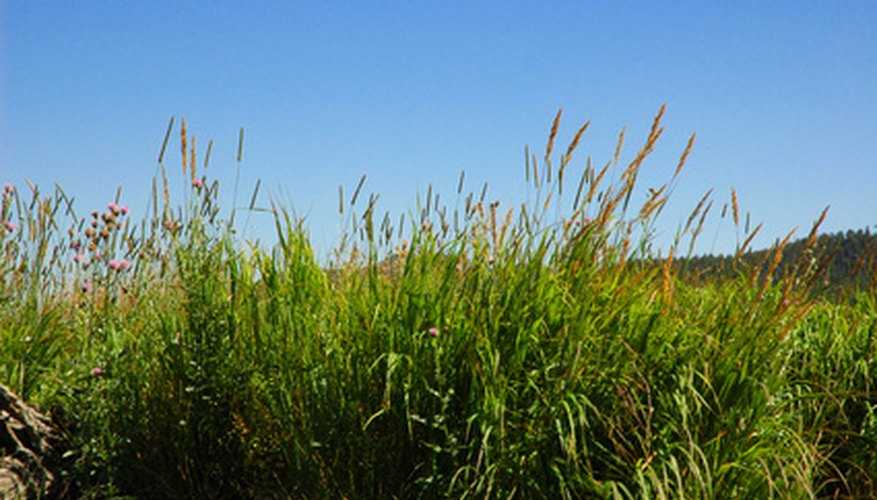 Kentucky gardeners often use grasses belonging to the Poaceae plant family for aesthetic or erosion control purposes. Kentucky falls within United States Department of Agriculture (USDA) Hardiness zones 5 and 6. If you live in Kentucky, select grass varieties according to season, mature size, intended use and general culture. Many types of grasses grow well in Kentucky's hardiness zones.
Big Bluestem
Big bluestem grass (Andropogon gerardii) features deep green to blue-green blades that turn maroon or tan shades in autumn. This grass produces tiny blue, red or brown blossoms that appear from August through November. Grass blades range from 4 to 8 feet high. This warm-season grass is sometimes called the turkeyfoot grass because the branched seed head looks similar to little turkey feet. Native to North America, the big bluestem grass often grows aggressively in undisturbed sites. This perennial grass prefers moist, acidic soils in partial to full sun locations. Kentucky gardeners often use big bluestem grass in prairie gardens, grassland restorations and low meadows.
Tumble Windmill
Tumble windmill grass (Chloris verticillata) features light blue-green blades that range 1 to 3 feet tall. The blades bear 10 to 16 flower spikes that spread out to look like small windmills. The purple-green blossoms appear from May through November, followed by grain-like, red-green seeds that mature to brown. These seeds attract various types of birds. This perennial grass likes heavy, gravelly or sandy soils in various lighting conditions. The tumble windmill grass performs well in Kentucky lawns, parks and prairie restoration projects.
Tufted Hairgrass
Tufted hairgrass (Deschampsia cespitosa), a cool-season perennial, features evergreen blades that range from 12 to 36 inches in height. This grass features panicles of purple-green to tan blossoms that turn yellow with maturity. These little flowers appear in June and bear hairy tufts that give them their name. Tufted hairgrass prefers moist to very wet, alkaline soils that receive partial shade. Kentucky gardeners often used tufted hairgrass around bogs, fen margins and mountain meadows.
Three-Flower Melic
The three-flower melic (Melica nitens), also called tall melicgrass, features thin, drooping blades that reach 3 to 5 feet in height. The flat blades bear small panicles of white flowers from March through April. The showy flower spikes give way to tiny, white or tan fruit. This cool-season perennial grass typically turns dull brown once summer begins. The three-flower melic naturally occurs in shady woodlands and savannahs across Kentucky. This grass also works well as an accent plant in shaded lawn and garden areas.
Reed Canary Grass
Reed canary grass (Phalaris arundinacea), an ornamental, bamboo-like perennial, bears variegated green and white blades that range 2 to 3 feet tall. This grass tolerates various soil conditions but prefers well-drained soils in partial to full sun locations. Small, white, light pink or yellow flowers appear in April and May. This attractive grass typically turns dull brown by the end of summer. The reed canary grass performs well in Kentucky water gardens, boggy areas and stream margins.