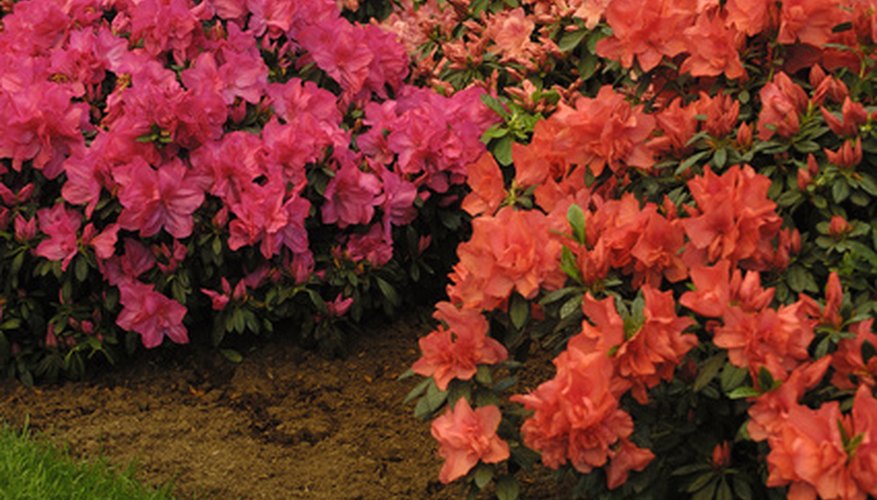 Though the evergreen foliage of azaleas makes them attractive landscape shrubs, the richly colored blooms are the real reason these plants are so beloved. Azaleas like acidic soil and mild winters and are popular for foundation plantings around southern homes and public buildings. The blossoms range in shade from white to pink to lavender to deep red. Failure to bloom can be due to several causes.
Weather
Late freezes are one of the main reasons azaleas fail to bloom, according to Dick Bir of North Carolina State University. Untimely cold spells can kill newly formed flower buds, even when the rest of the plant is unharmed. Protect azalea plants in the spring by covering them with blankets whenever frost threatens. Remove the coverings daily as soon as the temperature rises above freezing.
Sunlight
Though most azaleas don't like intense sunlight, they do require some sun in order to bloom. If your azaleas aren't blooming, make sure they aren't too heavily shaded. Azaleas that once bloomed, but no longer flower may be shaded by a new building or by trees that have grown taller.
Fertilizer
Horticulturalist Dick Bir advises that too much nitrogen encourages growth of leaves at the expense of blooms. If you fertilize your lawn with a high nitrogen food, it's possible your azaleas are receiving an overflow of this fertilizer.
Pruning
Azaleas set buds in the summer; prune them in the spring, immediately after blooming. If you wait too late to prune, you may inadvertently cut off the immature buds and have to wait another year for flowers to form. Christopher Starbuck, a horticulturalist with the University of Missouri cautions against pruning after July.