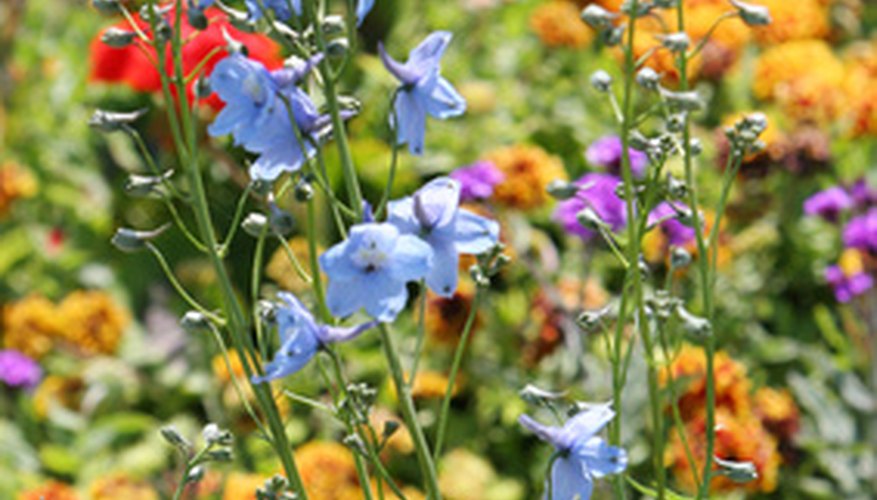 Small yards that are covered with lawn are easy to turn into flowerbeds. In fact, you can quickly transform any lawn, or portion of a lawn, into a productive garden bed where you can raise flowers, vegetables, even fruit trees. Lawn is nice for providing a play area for children and pets, or perhaps for playing croquet, but it's also nice to have some color in your yard in the form of blooming plants. You can start growing flowering annuals, perennials and bulbs in your new garden bed faster than you might think possible.
Measure the lawn area where you want to grow flowers with your measuring tape. A good size for flowerbeds is 3 feet wide by 6 feet long--this size allows you to walk all the way around the bed and reach into the center without stepping on the soil in the bed and compressing it.
Mow or weed whack the lawn where you want your flowerbed. Cut the grass very low to the ground. You can leave the trimmed grass on the ground or rake it up and add it to your compost pile, if you have one.
Mark your new flowerbed by driving a wooden stake into each corner and then tying string from one stake to the next, forming a "box" enclosing your flowerbed area. Or simply scatter baking flour on the ground all around the border of your bed.
Flatten cardboard boxes, and lay them over the cut grass on your new flowerbed. You can use a thick layer of newspaper if you prefer. Both cardboard and newspaper will smother and kill the grass underneath it.
Pile up layers of compost, topsoil, peat moss, wood ash, dead leaves and any other organic materials you have on hand on top of the cardboard or newspaper on your bed. The deeper you make your bed, the richer the soil will be.
Rake your new flowerbed level, and then water it well--you can start planting your flowers right away. With your trowel, dig holes large enough for your plants' root systems. If you need to dig through the cardboard or newspaper, it's fine to do this.
Things You Will Need
Measuring tape

Lawn mower or weed whacker

Stakes

String

Flour

Flattened cardboard

Newspaper

Peat moss

Compost

Wood ash

Dead leaves

Shovel

Rake

Trowel
Tip
This method is also good for growing vegetables.