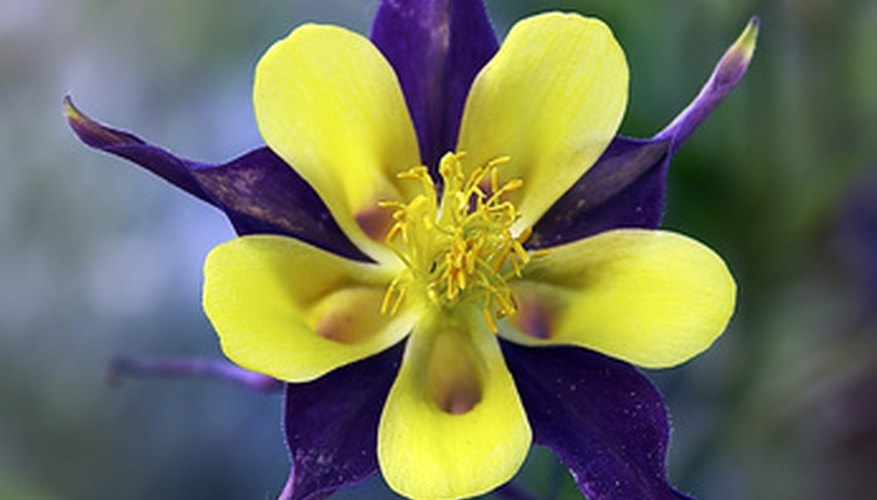 Columbines are pretty little perennial wildflowers native to Europe, North America and Asia. They come in a variety of colors, although most are red, purple or yellow. Columbines belong to the genus Aquilegia, which is in the buttercup family. As a wildflower, the columbine does well in poor to average soil, but does need good drainage. They can tolerate partial shade and require little, if any, fertilizer to keep them healthy and blooming throughout the summer. Some insect pests can plague columbines, such as larvae, worms or the columbine sawfly.
Watch for chewed leaves on your columbine plants in late spring. As soon as you notice damaged leaves, search for the sawfly larvae. They are green, hairless caterpillar-like creatures that have dark heads and are ½ inch long. Look on the underside of leaves to spot them.
Handpick all worms that you find and squash to kill them. Continue your search-and-destroy mission every day because large infestations can occur and the worms can quickly defoliate your columbines.
Dust your columbine plants with Bacillus thuringiensis (Bt) if you have a different type of worm or caterpillar causing problems by eating the leaves and flowers. Bt has not shown effectiveness in controlling the sawfly larvae, but it is an effective natural remedy for many types of budworms, cutworms, hornworms and others.
Spray your plant with insecticidal soap. This natural remedy for many insects is available at garden centers. Or you can make your own by mixing 1 tbsp. of a non-ultra, mild dishwashing liquid with 1 quart of water in a spray bottle. Wait until the sun has left the area where your columbines are growing and spray every other day until all signs of the invading worms are gone.
Apply a pesticide designed to kill worms on perennials and ornamentals, if your infestation is severe and natural methods do not succeed in getting rid of the problem worms. Examples of effective pesticides include acephate, carbaryl and bifenthrin.
Things You Will Need
Garden gloves

Bacillus thuringiensis (Bt)

Insecticidal soap

Pesticide, if needed
Tips
Test any pesticide you plan to use on a few leaves before you apply it to the entire columbine plant. Because the columbine has thin leaves, some pesticides might burn the plant.

The columbine sawfly lives only in late spring, specifically the month of May. After that time, if another worm attacks your columbine, it is most likely not the sawfly. Bt is the recommended remedy for other types of worms.
Warning
Always follow label instructions closely whenever you use any type of pesticide.
Resources