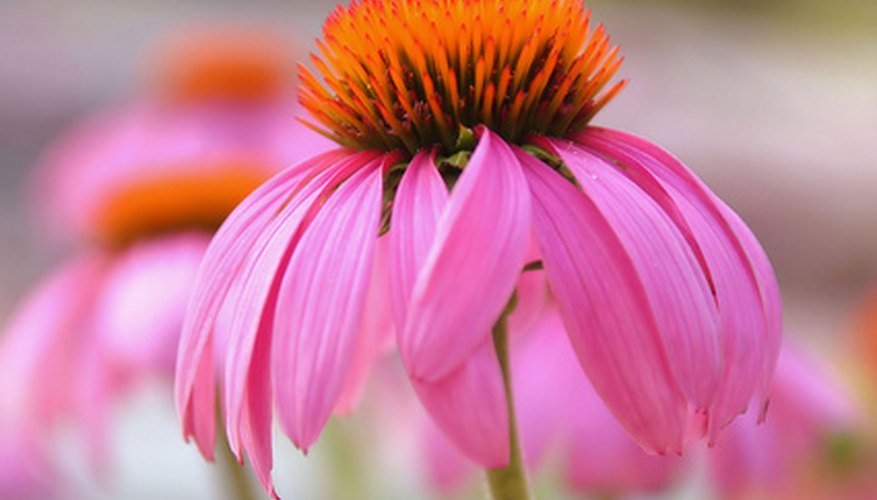 Evergreens have the ability to keep color all year, and perennial flowers come back each year taller and fuller, making these two plant types every gardener's dream. The vibrant foliage of an evergreen shrub coupled with bright flower blooms creates a classic look to the garden and landscape. Flowering trees also are ideal landscape plants because they provide a commanding presence with their flowers and foliage. Lining a driveway or backyard, a flowering tree provides a long-lasting addition to any space.
Perennial Flowers
Perennials flowers are ideal for landscaping because they come back each year healthier and fuller. Perennial flowers are hardy plants to grow for a long-lasting-design and are grown in dozens of colors, sizes and shapes. An unfussy yet showy perennial flower is the coneflower. It has an upright form that bears pinkish-purple flower blooms. The flower grows 1 to 3 feet tall and wide, and is drought tolerant and deer resistant, the ideal combination for a flower bloom. Coneflowers are tolerant of poor soils, high humidity and heat. They are striking along a flower bed or border, or cut fresh for a floral arrangement.
Another showy but low-maintenance flower is the black-eyed Susan. Blooming through summer and into the fall, the coreopsis bloom has bright yellow flowers that are drought tolerant. They also withstand high heat and hot summers, making them low maintenace.
Evergreen Shrubs
Evergreen shrubs are classic landscaping plants to grow because they remain with color all winter. Evergreen shrubs are tough plants that also grow more every year to allow the landscape to evolve and take shape. A hardy evergreen shrub to plant in the garden is the little gem arborvitae. This shrub has a dense, compact form and medium texture. It grows 1 to 3 feet tall and 4 to 6 feet wide, perfect for lining a backyard patio to create a privacy hedgerow. The dark green leaves are glossy and hold their color all year, even in the gray winter months. Arborvitae shrubs require full sun to light shade and moist, well-drained soil.
Flowering Trees
Flowering trees bring height and vibrancy to the landscape. When planted along the garden or backyard space, they become colorful focal points to the home. Many flowering trees are deciduous, meaning they lose their leaves every year to come back the next season. A brilliant flowering tree is the Japanese apricot. This rapidly growing deciduous tree has a rounded dense growth and beautiful flowers. The fragrant flowers are single or double and come in white, red or pink. They emerge in late winter to early spring to light up the garden with color. They grow 10 to 20 feet tall and require full sun to partial shade to thrive. Plant these stunners along a garden wall for a magical backdrop to the garden.