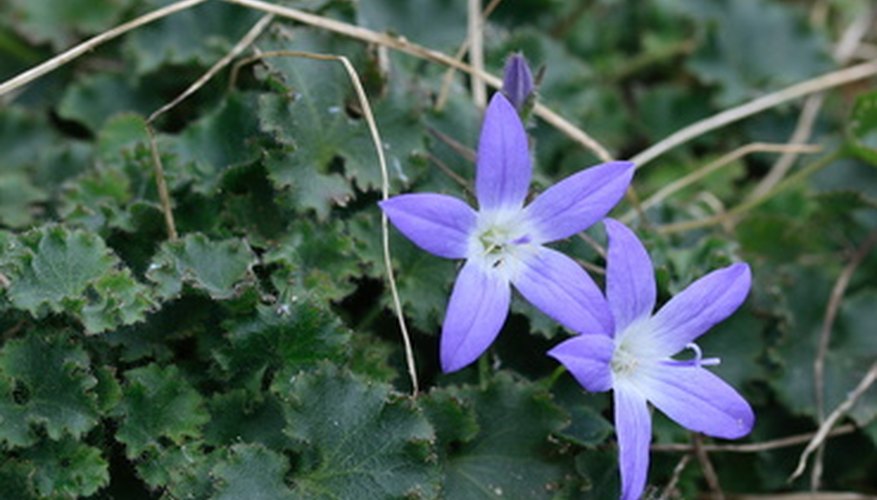 Periwinkle, technically known as Vinca minor, is a member of the low-stature type of plants used for ground cover. Another popular name for periwinkle is myrtle. Periwinkle is quick to grow and spread. It does well in places other ground covers, such as grass, will not take hold. Periwinkle's simple needs makes it a great favorite for landscaping.
Where to Plant
Periwinkle is very hardy but handles mild climates best. It works better as an annual in severe climates. Because it grows fast, it adapts well to any climate, and in cold northern areas is easier to keep in check due to winter die-off. This plant prefers shade, or partial shade. If you plant periwinkle in direct sun, more water is necessary. Most common applications are in areas where grass will not grow, or would be hard to tend, such as roadsides, hillsides, riverbanks, shaded areas, landscape beds, around trees, and in areas that swamp or suffer drought.
Color
Periwinkle is eye-pleasing. Its brush is evergreen so even in winter it protects the ground beneath it and creates a pleasing appearance. It blooms twice a year, in the spring and sometimes in the fall. In bloom, it boasts beautiful, delicate white, blue or pink flowers.
Weed Control
Periwinkle ground cover helps keep weeds at bay by using up all available space that weeds might otherwise take advantage to occupy. Periwinkle is quite opportunistic and needs definite boundaries to keep it from taking over areas beyond your design.
Periwinkle Benefits
Periwinkle helps problem soil by holding moisture in drought situations or soaking up water in heavy rain. This attribute makes them good for landscaped areas so plants get the proper levels of water and protection from invasive species.
Pests
Periwinkle is prone to blight, canker, leaf spot and root rot. Most of the problems periwinkle develops are due to improper planting or location. Over-watering, even though periwinkle is a water-loving plant, may encourage disease and rot problems.