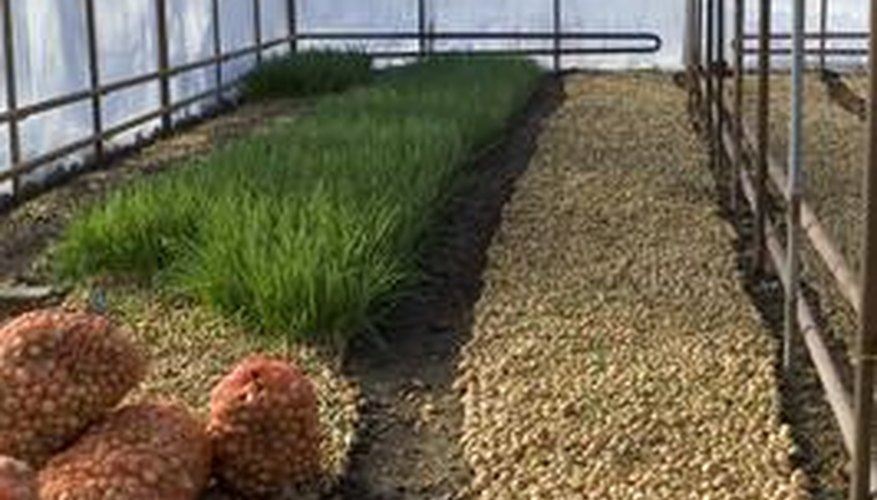 When outside temperatures reach into the 70s and 80s Fahrenheit (20 to 30 degrees C), the temperature inside a greenhouse can easily exceed 100 degrees F (38 degrees C). Unless the greenhouse has a sophisticated system of vents and fans, plants are quickly killed. One way to moderate this problem is by covering the top and sides of the greenhouse with a large piece of shade cloth to reduce heat buildup.
Measuring and Fitting Shade Cloth
Carefully measure how large a piece of shade cloth you will need to cover the entire top and part of the sides of your greenhouse. You should leave 4 to 5 feet on each side uncovered so your plants can get light without heat.
Order a custom-cut and hemmed piece of shade cloth from a supplier. Shade cloth is available in a wide variety of densities, from 30 percent to 90 percent. The 50 percent density is popular. You can buy it by the yard and get an unhemmed piece, but it is best to get a custom-cut piece that is tape-hemmed and fitted with grommets. Most shade cloth is black, but it is available in colors.
Inspect the shade cloth to see how far apart the grommets are placed. Install tie-down anchors in the ground on either side of the greenhouse to match this spacing.
Drape the shade cloth over the greenhouse, making sure that it covers the entire top and that there are equal amounts of uncovered space on each side. This will be easier on a calm day, without a wind to blow the fabric around.
Using cord or twine, secure the shade cloth grommets to the tie-down anchors. Use knots that you will be able to untie easily when you need to remove the shade cloth on a dull day or in the winter. Shade cloth can be folded or (better) rolled for winter storage.