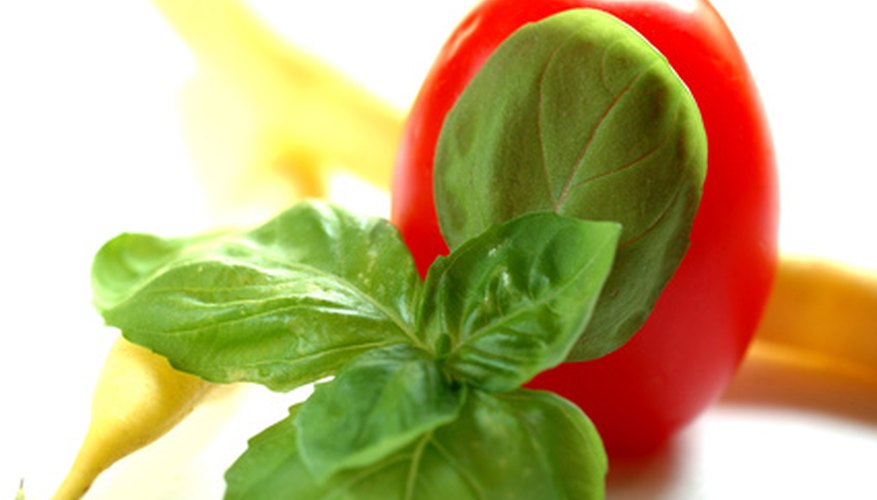 for salad with basil image by ewa kubicka from Fotolia.com
Growing two different kinds of plants together that benefit each other is called companion planting. This type of planting is often used in organic gardening as a chemical-free way to control pests and disease. Companion planting may be used to repel insects or to attract beneficial bugs. There are often other benefits to companion planting--it can have a real impact on the growth and health of your plants. Tomato plants and basil are just some of the plants that have been routinely grown together, showing some definite benefits to each other. Plant three basil plants for every one tomato plant for the most benefits.
Pest Control
The strong scent of basil repels many garden pests including mites, aphids and flies. This benefit provides protection for your tomatoes, allowing them to be unaffected by damage from pests.
Attracting Bees
Tomato plants need to be pollinated. The strong scent of basil attracts bees and in turn brings bees to the tomato plants for pollination.
Flavor Enhancement
When tomatoes are planted near basil, they take on the flavor of basil. These tomatoes will have a tomato taste with a basil undertone. Basil is a complementary flavor to tomatoes, as they are commonly used in recipes together.
Similar Growth Requirements
Basil and tomatoes have similar growth requirements. Tomatoes and basil both require plenty of sunlight, water and higher outdoor temperatures. Planting them together makes the most of your garden space.