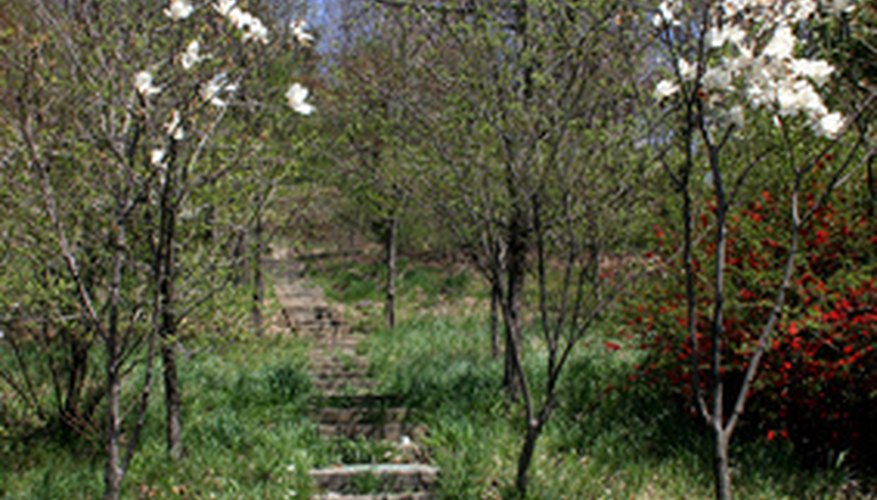 Botanical gardens contain a variety of plants, including shrubs, trees and flowering specimens. Many public botanical gardens contain scientifically interesting varieties of plants, as well as some that display rare and exotic qualities. Some home gardeners prefer to grow native varieties in their individual botanical gardens. Botanical gardens follow individual themes, exhibited through plant selections, garden structures and landscape designs. Maintaining a successful botanical garden requires careful plant selection, site preparation and continuing care to ensure healthy specimens.
Create a theme for your botanical garden. Choose native plants for a low-maintenance outdoor settings or follow the example of many public gardens if you possess a large, indoor area capable of providing the necessary elements required by exotic and rare plants. Consider the amount of humidity, as well as the climate, in your selected site. Match a theme to your location, such as wooded gardens for shady sites, desert gardens for arid climates or exotic gardens for enclosed greenhouses.
Test the soil in your planting site. Purchase a test kit from a gardening center or hardware store. Follow the instructions on the kit to obtain a soil sample from your garden. Add all soil amendments and nutrients recommended by your test kit results. Thoroughly incorporate amendments into the existing soil with a garden shovel and rake.
Plant a variety of plants in your botanical garden. Include trees, shrubs, ground covers and flowers. Select plants with characteristics suited to your planting site. Choose several types of tall trees for background plantings and fruit trees and shrubs to place in front of them. Select interesting foliage plants and blossoming varieties to place next to walkways and viewing areas. Add vines and ground covers to fill in bare surfaces and guard against soil erosion in susceptible areas.
Plant your selected varieties of plants. Follow the planting instructions included with each variety to ensure proper planting techniques. Allow adequate space between plants for future, mature growth. Plant aggressive varieties of flowers and ground covers away from other plants. Lay bricks or paving stones between plantings to create interesting pathways. Use props, such as lanterns, benches and statues, to complete your desired theme.
Feed your plants essential nutrients. Fertilize blossoming and fruiting plants and flowers with fertilizers formulated for use on your individual plants. Follow manufacturer's instructions when applying fertilizers. Keep tropical plants warm and moist to ensure continued health. Protect delicate plants from cold by covering or transporting indoors when temperatures drop in outdoor gardens. Remove weeds as they appear in the soil.