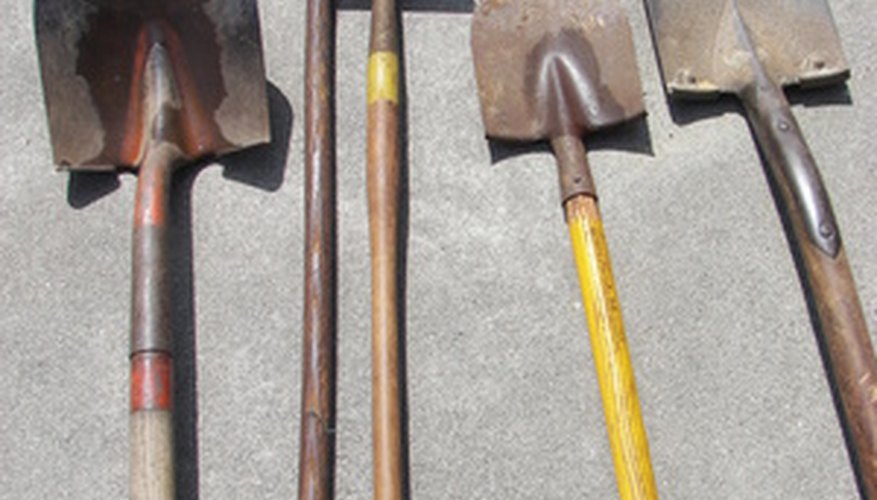 Tools needed to maintain a lawn and garden depend on the size of the area the gardener has to take care of. Most tools come in a variety of sizes. The quality and cost variance is also diverse. Hand tools depend not only on the size of the area that needs to be worked but also on the physical ability of the worker and the time allowed to complete the gardening task.
Hand Tools for the Garden
Basic hand tools for lawn and garden include a spade, hoe, rake and trowel.
A pointed shovel for moving and lifting should have a long handle for better leverage. The right-length handle/will make the task less tiring.
A short-handled hand spade with a flat blade can be used for forming trenches and shaping.
A spading fork is used for digging root crops, turning compost, spreading mulch and turning the soil.
A square-bladed hoe is used for removing weeds, preparing seed beds and breaking the soil, while a pointed hoe is preferred by many gardeners to form seed furrows. It is also lighter in weight than a square-bladed hoe.
An action hoe can remove weeds with either a pulling or pushing motion, while a scuffle hoe is used with a pushing motion and is sturdier than the action hoe.
Spreading mulch, moving debris and small rocks, and smoothing over seedbeds are all tasks that can be accomplished with a sturdy rake. When choosing the rake, remember that the handle tip should come up to your ear. A rake whose handle is too short can cause a backache. The more tines a rake has, the heavier it is.
Cleaning between plants and weeding small areas can be done with a small hand cultivator.
A digger will cultivate soil and help weed out persistent weeds with deep taproots. It usually has two pronged blades attached to a 10- to 14-inch metal rod.
Power Tools
To blend soil or to work rocky soil, many gardeners choose a power tiller. It also makes working organic matter and manure into the soil a much easier job. Power tillers take a lot of strength to use because of their size; and because they are so heavy, it's sometimes hard to operate them in a straight line.
The choices in lawn mowers are vast. Electric mowers for small yards and riding mowers or self-propelled mowers are available.
Carts and Wheelbarrows
Many sizes and styles of carts and wheelbarrows are available to help in the garden. Wheelbarrows usually give more strength and control over movement than a cart for moving soil, debris, rocks and compost.
A light cart is helpful to move flower pots, sawdust, leaves and straw, or mulch. Larger garden carts with tires the size of bicycle tires are available to move bags of topsoil and fertilizer and rocks.
Harvesting
Harvesting tools include a sharp knife and various types of shears. Pruning shears, loppers and hedge clippers are available in a large variety of shapes and sizes. Baskets range in size from small berry baskets with or without handles to bushel or 8-gallon baskets.