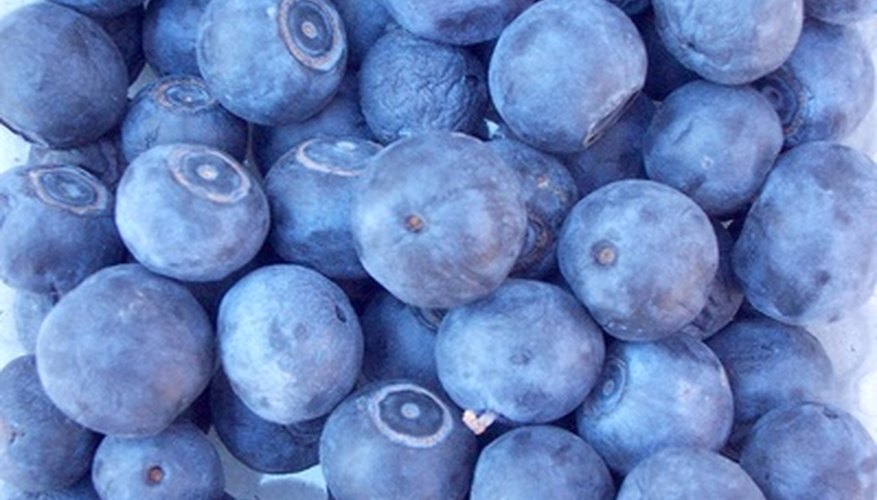 Georgia provides a climate ideal for planting native rabbiteye blueberries known botanically as Vaccinium ashei. Planting at least two cultivars of the species is a necessity for pollination. Planting three cultivars with overlapping bloom cycles is even better. According to D. Scott NeSmith at the University of Georgia, the three best cultivars to combine for Georgia planting are Alapaha, Brightwell and Premier, as together they allow for the longest cross-pollination period helping to create bountiful harvests.
Alapaha
Alapaha is a variety of Rabbiteye blueberry that was introduced to the market by a partnership of the University of Georgia and the U.S. Department of Agriculture. It is considered an early season plant but was bred to bloom at least 10 days later than other early varieties. This makes the plant less likely to suffer the tissue damage and bloom loss due to late winter and early spring freezes but still deliver succulent fruit early in the season from late May through June.
Brightwell
Brightwell is a mid-season rabbiteye blueberry variety that is considered to be the most resistant to damage from spring freeze and thaw cycles. It produces large quantities of medium size blueberries that are harvest ready fruit from early June through the middle of July.
Premier
Another mid-season variety, Premier is a fast growing shrub that is known for abundant harvests of berries that are relatively large and deep in color for a rabbiteye cultivar. Fruits are ripe and harvest ready from very late May or early June through the middle of July.