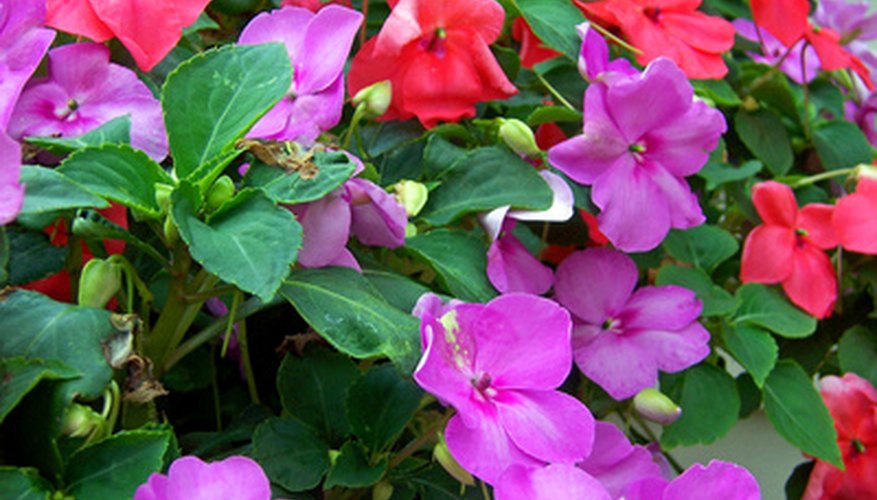 Window boxes need plants that are designed to work well in containers, as it is a form of container gardening. For window boxes that are in partly shaded areas, you'll need to find container plants that are also able to grow in partial shade conditions. Check the cultivars of the plants you find to make sure that both aspects pertain to the plant you're interested in before taking it home to plant.
Blue Flies
Blue flies is the common name for Aristea ecklonii from the iris family. It is an evergreen that is also a perennial. It grows 15 to 18 inches in height with grass-like leaves. The flowers are small and blue, looking like saucers. This is a plant that dislikes transplantation, so be sure to keep it undisturbed. Plant a blue flies plant in full sun or light shade in well-drained soil with good moisture. Propagation techniques should be from clump division and from seed. Aristea ecklonii is hardy from USDA hardiness zone 8b through 11.
Pentas
Pentas is botanically from the madder family and called Pentas lanceolata. It is a fast-growing, easy-to-grow perennial that attracts butterflies and hummingbirds. The leaves are dark green and flowers are in clusters. Colors of blooms could be white, pink, red, purple or lavender. Pentas should be planted in sun to shade lighting and moisture retentive fertile soil. It has a USDA hardiness zone range of 8 through 11. To propagate a Pentas lanceolata use cuttings in the spring and summer seasons.
Impatiens
The botanical name for impatiens is Impatiens wallerana, and it is from the balsam family of plants. This perennial is typically grown like an annual and is easy to grow. Mounds tend to get 8 to 24 inches high and 8 to 24 inches wide. The flower colors vary, and the leaves are bright green. They are hardy in USDA zones of 4 through 10. Impatiens should be planted in moist, fertile soil in partial shade to partial sun. Propagation for impatiens should be from cuttings or from seed.
Wishbone Flower
Wishbone flower is known as the torenia or bluewings and by the botanical name of Torenia fournieri, from the figwort family. It is a hummingbird attracting annual that grows a foot tall. The hairless leaves are 2 inches, and the trumpet-like flowers have different colors according to the selected cultivar. Wishbone flowers should be planted in a moist soil with partial shade. The USDA hardiness zones of 6 through 9 are good for this plant. Propagate via seed and by cuttings.