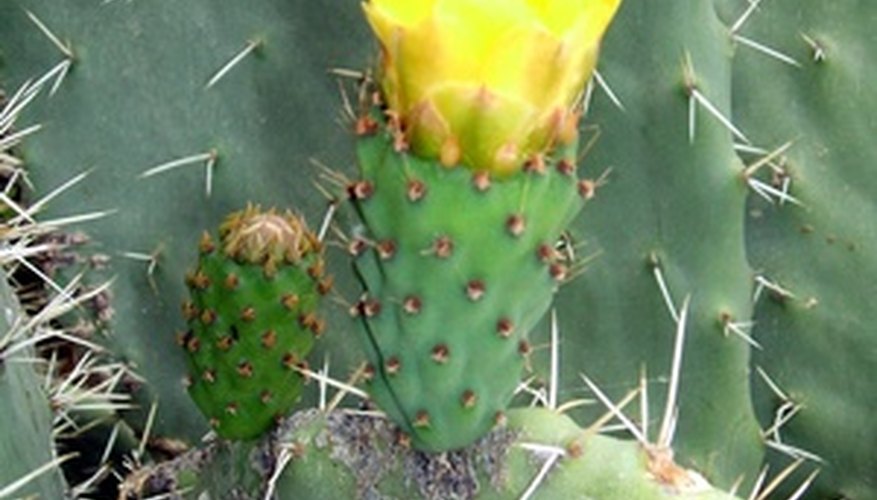 Sun hearty plants are tough enough to stand up to the heat of a Florida summer and keep on growing. Plan your garden around the sun--where it is in the garden at what time of the day. Sun hearty plants go best in the places that get at least six hours of sunshine a day and they can take the hotter afternoon sun as well as they can take the sun in the morning.
Hardy Prickly Pear
Hardy prickly pear (Opuntia humifusa) is also known as prickly pear cactus and prickly pear. The cactus spreads along the ground producing oblong, flat spiny pads that grow from 2 to 6 inches long. The bright yellow flowers appear in spring and early summer, measure 3 to 4 inches across and are followed by edible, egg-shaped red fruit that grows from 2 to 3 inches long. Plant hardy prickly pear in full sun and dry to moist, but never wet, soils. The plant is hardy in all of Florida with the exception of the Florida Keys. Hardy prickly pear does well in a rock garden or as a container plant.
Traveler's Palm
Traveler's palm (Ravenala madagascariensis) is also known as traveler's tree. The tree is not a true palm, but closely resembles one, producing deep green leaves that look like those of the banana tree and grow like those of a palm. The leaves grow up to 10 feet long and from 12 to 20 inches wide. The trunk grows underground when the tree is young, eventually growing to from 30 to 60 feet tall and 1 foot in diameter. The cream-white flowers grow in clusters up to 12 inches long, bloom all year on a mature tree and produce brown fruits. Plant the traveler's palm in full sun, but provide some shade until it is an established plant. The tree does best in a well fertilized, moist soil. Traveler's palm is hardy in southern Florida and the Florida Keys.
Bear's Breech
Bear's breech (Acanthus mollis) is also known as the Grecian pattern plant and artist's acanthus. The plant grows up to 5 feet tall and almost as wide. Bear's breech produces leaves that grow up to 3 feet long and cream white, pink or purple flowers that bloom in late summer on stalks that tower above the leaves. The plant is a native of the Mediterranean and should be planted in full sun and a moist, well-drained soil. Bear's breech is hardy in all areas of Florida, except for the Keys.
Cape Lily
Cape lily (Crinum X powellii) is also known as Powell's crinum lily and produces arching leaves that grow from 3 to 4 feet long. Its fragrant, funnel-shaped white or pink flowers grow to 4 inches long, blooming from late summer till fall. Plant the cape lily in full sun and well drained soil to get the best flower production. The plant is hardy in all of Florida including the Keys.