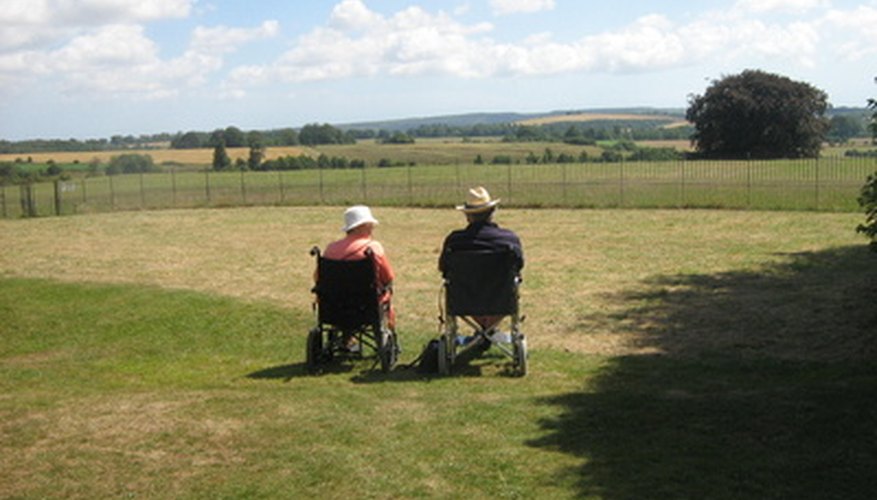 elderly couple relaxing in wheelchairs in the sun image by L. Shat from Fotolia.com
People of all ages and abilities enjoy working in the garden. It is peaceful and relaxing to be outside in nature, and pulling weeds, planting seeds or harvesting vegetables can provide a gentle workout. If there's someone in your life who would enjoy gardening but is not physically able to bend, stoop or reach, you can build a handicap-accessible raised-bed garden. Building the raised beds will take a day or two, but the pleasure of gardening can be enjoyed all summer long.
Decide where you would like your handicap-accessible garden. Most vegetables and flowers do best in full sun. It will be easier to build your raised bed in place. Make sure the ground is flat and even and that the site is otherwise safe for wheelchairs.
Measure the size of your raised bed. A wheelchair-accessible raised bed should be 18 to 30 inches tall and no more than 2 feet across so that a person in a wheelchair can reach across it. It can be any length. For the purposes of this article, let's say you are building a raised bed that is 2 feet tall, 2 feet across and 8 feet long.
Buy and cut the lumber. For this raised bed, you will need eight 2-by-6 boards that are 8 feet long and eight 2-by-6 boards that are 2 feet long, plus six boards of any thickness that are 2 feet long to use as braces.
Lay four of the 8-foot boards flat on the ground to create a panel that is 8 feet long and 2 feet tall. Use a hammer and nails to attach one of the 2-foot braces in the middle to hold the boards together.
Build another panel with the other 8-foot boards and one of the braces.
Build two similar panels with the 2-foot boards, only for these you will want a brace on each end.
Stand up one of the 2-foot panels next to one of the 8-foot panels so that the brace at the end of the 2-foot panel runs alongside the end of the 8-foot board. Nail them together to make a corner. You will probably need someone else to hold the panels in place.
Make a similar corner with the other panels.
Nail the two corners together to make a box, and stand it upright.
Fill the box with a mixture of three or four parts topsoil and one part compost or composted manure.
Plant vegetables, flowers, small berry bushes and other plants in the soil mix. You can grow almost anything in these raised beds except for large trees.
Top off the raised bed with some fresh soil and compost every spring to make sure it stays full.
Things You Will Need
Measuring tape

Pressure-treated or redwood lumber

Saw

Hammer

Nails

Topsoil

Compost or composted manure
Tip
Make sure there is an easily accessible water source for your raised bed. If the handicapped person cannot maneuver a hose or heavy watering can, consider laying a soaker hose across the length of the garden so that all the gardener has to do is turn on the spigot.