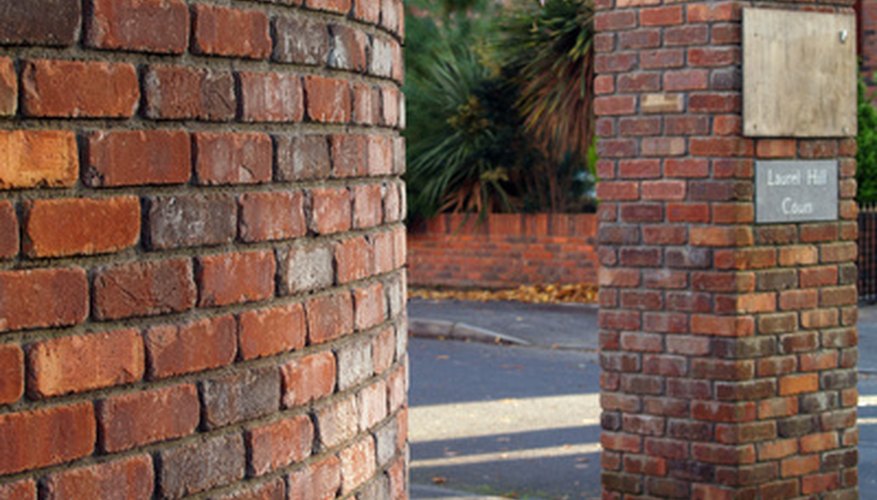 The brick, a rectangular block of fire-hardened clay, has found uses in the landscape beyond a material used to build houses. A landscape design that includes bricks will be eye-catching, giving a house the coveted curb appeal. Mortared or placed loose, there are many brick landscaping ideas from which to choose.
Border
Bricks can be used as a border, or curb, around a landscaping detail like a flower bed or tree. Place unmortared bricks on top of the ground or embed the bricks flush with the ground so you can mow over them. The brick can be set side-by-side lengthwise or butted together end-to-end.
Create a low retaining wall. Use mortar to secure a row of bricks side-by-side lengthwise with the tops of the bricks at ground level. Mortar a brick perpendicular (brick standing on end) and flush with the end of each ground-placed brick to create an L-shaped mini-retaining wall.
Walkway
Use bricks to outline a pattern, like squares, diamonds, circles or rectangles, and fill the center with gravel to create walkway. Create an all brick walkway in herringbone fashion, with the bricks perpendicular to one another.
Create steps on a sloping landscape to make it easier to walk from a low area to a higher area. Lay bricks along the street curb to create a landing strip for visitors to step on as they exit their parked cars.
Driveway
Use bricks to create a border around sections of a concrete driveway, like a series of concrete pads the width of the garage and 10 feet long with bricks surrounding the pad. The pads could be smaller (or larger) and be made of gravel instead of concrete. Create a brick column, 3 to 6 feet tall, on each side of the driveway entry and place a light or decorative figure or pot on top.
Patio
Design the patio with a curving perimeter rather than the typical rectangle. An existing concrete patio can be enhanced with a border of bricks or built-up brick flower planters or surrounding short wall that can make the patio feel like an outdoor room. Bricks can be used to build a fire pit, a welcome addition on chilly evenings when friends get together.
Garden
Choose a focal point in the garden to create a stopping point where you can place a bench or birdbath. Create a small raised bed for a favored flower grouping or shrub. Dry stack a layer or two of bricks to create a platform for a flower pot. Mortared brick can be used to create a functional or decorative retaining wall. The functional wall can hold back soil while the decorative wall can form a "container" for trees, shrubs or flowers.