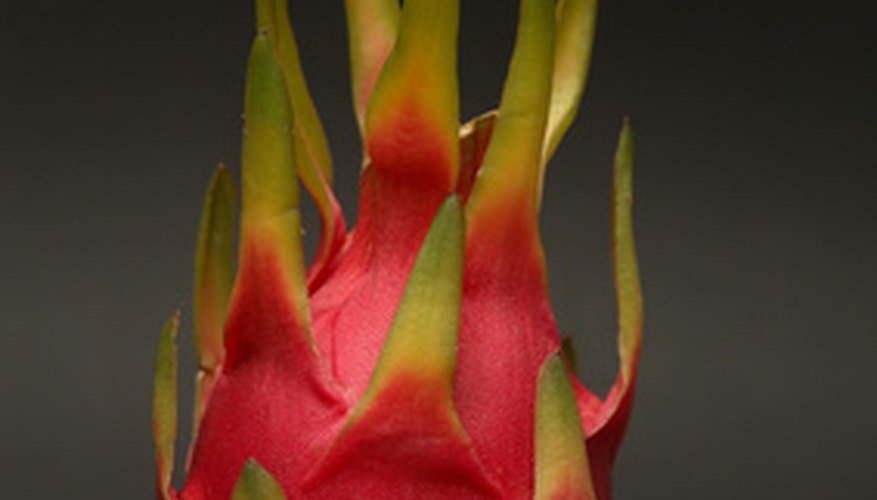 Night blooming cereus is as exotic as its name suggests. Perhaps the most interesting member of the cactus family, night blooming cereus uses aerial roots to climb like a vine. In spring, it produces beautiful dinner-plate sized flowers that only bloom at night and close by daybreak. And in fall, night blooming cereus produces red, 5-inch long edible fruit known as dragon fruit. Though exotic, the night blooming cereus is relatively easy to care for.
Water night blooming cereus regularly. During the growing season (March-August), its soil should never be allowed to dry out completely. From the end of August to January, reduce watering to once weekly. Stop watering completely in February to aid in flower formation.
Fertilize the night blooming cereus once monthly with a 15-30-15 fertilizer. Feed the plant throughout the growing season from the beginning of March to the end of September.
Prune the plant's stalks back to within 6 inches of the surface of the soil in the first week of March. Night blooming cereus will only flower from new wood grown from spring onward.
Refresh the top soil once annually, at the beginning of the growing season. Remove the top 2 inches of topsoil (take care not to disturb the roots) and replace it with a quality potting and seeding soil. Then wet 1/2 cup of the soil with hot water, add 1 tsp. of 0-5-0 bone meal and 1 tsp. of pulverized lime. Mix well and spread evenly over the top of the soil but at least 1 inch away from the base of the plant.