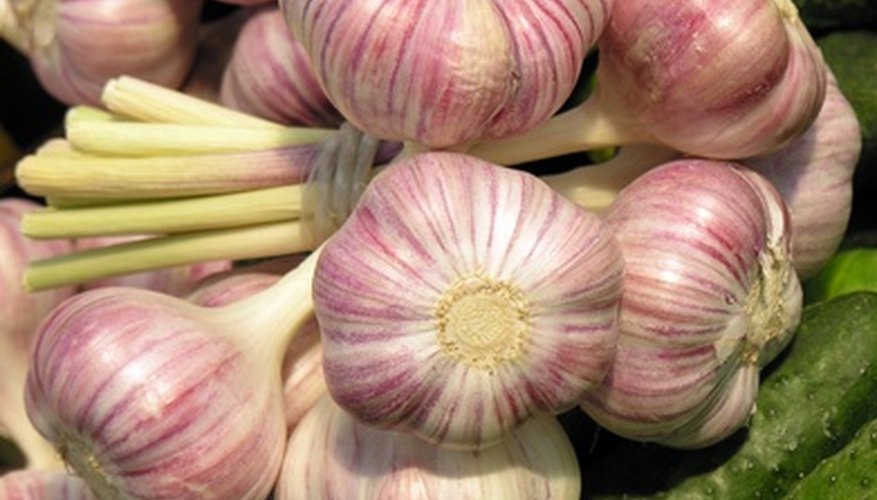 There are two types of garlic which produce many varieties. The types are hardneck and softneck, named for the stalks being either very thick or thin and soft. Hardneck garlic produces very large cloves and don't store as well as softneck. Softneck garlic normally grows 12 to 20 cloves per bulb and stores longer than the hardneck types. Grocery store garlic is almost always the softneck kind and is normally treated with a chemical that inhibits sprouting. This will not produce well in the home garden, so look for organic garlic or purchase the garlic from the local farmers market.
Choose a location that has full sun and drains well. If your area does not drain well, consider a raised garden for your garlic. Plan planting for fall, between October 1 and the middle of November.
Prepare the bed by clearing all weeds and turf grass in the area. Place 2 inches of a good quality compost over the bed, and turn the soil to mix the compost in to a depth of 3 to 4 inches. Rake the bed out smooth.
Separate the cloves from the bulb of garlic and plant in the bed to a depth of 3 inches, the root side down and pointed side up. Cloves should be 8 inches apart and rows 18 inches apart. Cover the cloves over with soil and tamp down lightly.
Water the bed thoroughly after planting. Water only when the ground is dry to a depth of 1 to 2 inches thereafter.
Cover the entire bed with 6 to 12 inches of clean straw at the end of November. This will keep the garlic warmer, keep down weeds and keep the garlic from heaving in the frost or frozen ground. Garlic will start to sprout in the spring.